Paynesville lifeguards beat the heat
This article submitted by Aaron Ziemer on 8/11/98.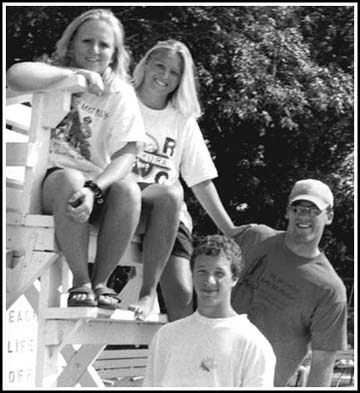 The Paynesville lifeguards at Veteranís Park, Lake Koronis, have been working hard during the summer heat.

The beach at Veteranís Park is open from 1 until 7 p.m. every day.

The lifeguards are Jesse Spates, Stephanie Tangen, Autumn Roemeling and Kurt Habben. Spates has been the head lifeguard for two years.

The beach has been fairly safe this year. There havenít been any major emergencies.

ďThe behavior this year hasnít been too bad,Ē Spates said. ďIt has been about the same as in the past.Ē

One of the many responsibilities of the lifeguards is to make weather-related calls on their own, but city hall can help them if they have questions.

The beach does not open if it is raining before the lifeguards report for work. The lifeguards are supposed to wait and see if the weather clears before they head to the beach. If it rains while a guard is on duty, he or she can wait and see if it will pass or close if the weather doesnít look like it will pass quickly. In case of lightning, the guard(s) on duty are supposed to close the beach immediately, and if the weather is below 70 degrees the beach is supposed to be closed.

During the week one guard at a time is on duty during daytime hours. On Friday through Sunday, two guards are on duty, because the beach is usually busier.

In case of an emergency the lifeguards must clear the water. After that, either they must call or have someone call 911. They also need to determine if the swimmer has a spinal injury. They must leave the swimmer in the water and not move them if there is danger.

If there is no scare of a spinal injury, the lifeguard can take the swimmer out of the water and begin whatever rescue means are necessary.

With the summer winding to a close, the college-age lifeguards will be heading back to school. There is no official day set for beach closing, but it will be near the end of August or early September.
---