Pacesetter basketball camp teaches kids basics
This article submitted by Linda Stelling on 7/21/98.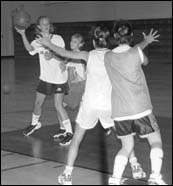 Forty-eight athletes from the Paynesville area took part in a Pacesetter basketball camp for youth in grades first through 12th.

Leading the camp were Jeff McCarron, Pacesetter state director and a Paynesville resident, and Pat Dewey, East Central High School, Sandstone, head boys basketball coach.

Dewey worked with the students on all aspects of basketball, especially teaching defense and shooting.
---