Fishing, Sharing, & Caring is new program
This article submitted by Aaron Ziemer on 7/21/98.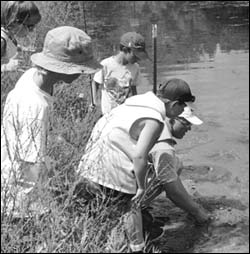 Fishing, Sharing and Caring, a new program by Paynesville Community Ed, took place for the first time on Friday, July 10, at Putzkeís Pond and Veteranís Park.

There were 22 youth in the program that lasted from 10 a.m. to 3 p.m. and was put on by Nate Guldan, a New Ulm DNR intern.

The kids did many different activities which Guldan surpervised. Some of the activities included learning about different types of fish and being able to identify them. Another thing the kids did was paint on a side of a dead fish and then flipped it over onto paper to make a painting of their fish. Guldan also did many different types of water tests with the kids.

The kids then went back to Putzkeís Pond where they began to fish.

ďGuldan really did a good job,Ē said Sarah Winter, community ed coordinator.

The kids had a good time and were able to learn about the water and environment and catch fish.
---