Rausch, Hess advance to state track meet
This article submitted by Courtney Karsch on 6/2/98.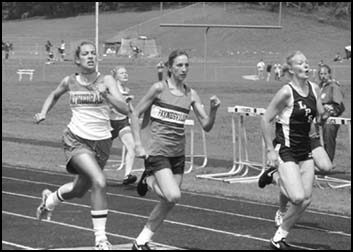 Well, the girls track season is slowly ending. On Saturday, May 30, the eight girls that advanced to Section 5A had their meet in St. Michael.

Competing were: Tiffany Rausch, Jenny Hess, Gina Benson, Amber Michaelis, Carin Frenchick, Teresa Rodriguez, Erin Aagesen, and Sara Spanier.

Out of the eight girls from Paynesville, two are advancing onto the state meet: Sophomore Tiffany Rausch, pictured left, and eighth grader Jenny Hess, pictured right.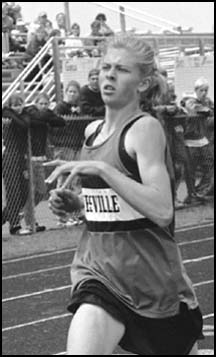 Rausch won the 400 and 200-meter dashes in the section! She is the first girl to win two section events since Tina Lang won the 1600 and 3200 in 1991. Rausch had her best day ever in track at this meet. Her time in the 400 was marvelous. She ran a 58.93, which is incredibly hard to get, setting a new school record. She broke her own school record. Next, she ran the 200-meter dash in 26.67, which is a new personal best for her.

Hess ran her personal best in the mile run. Her time was 5:15.85. She cut nine seconds off her previous best time, which gave her second place.

Everybody had a great day and really gave it all they had. This is a really dedicated team and they really work hard. The following team members didnít advance onto the state meet:
Amber Michaelis placed third in the high jump with a jump of 5'1". She also placed sixth place in the 300-meter hurdles with a time of 49.3. This was a personal best for Amber.
Gina Benson tied for fourth place in the high jump with a jump of 4'11".
Carin Frenchick ran a great race in the 800-meter run with a time of 2:32. This was also a personal best for Carin.
Teresa Rodriguez threw the shot put 33'4" to give her an eighth place.
Erin Aagesen ran a great two-mile with a time of 12:24 to give her an eighth place medal.
Sara Spanier also tied with someone else in the pole vault. She jumped 7'9" and earned an eighth place medal.

The state track meet starts on Friday, June 5, and continues on Saturday, June 6 in Blaine at the National Sports Center. Rausch will run prelims in the 400-meter dash first, then in the 200. Class A prelims begin at 4 p.m. on Friday. Rausch needs to make it in the top nine to advance to the finals.

Hess will run at 2 p.m on Saturday, June 6. She will run the 1600-meter run. There are no prelims for this event.
ďWe had a great day at sections. The girls really did an outstanding job,Ē said Randgaard about the meet.