Rausch, Hess compete at state track
This article submitted by Courtney Karsch on 6/9/98.
The two Paynesville girls that advanced to the state competition, Tiffany Rausch and Jenny Hess, came back Saturday with very positive results. Rausch placed sixth in the 400-meter run and Hess 10th in the mile run. The state meet was held in Blaine at the National Sports Center.

On Friday, June 5, Rausch ran prelims for the 400-meter dash at 5:05 p.m. She ran a 1:00.1 which qualified her for the finals. She ran a good race and had the sixth best time in the prelims. Later that day at 6:10 p.m., Rausch had prelims in the 200-meter dash as well. She ran a 27.6, but didnít qualify for the finals.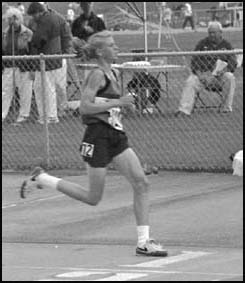 On Saturday, June 6, it was Hessí turn. She had been mentally prepared as she was only focusing on the mile run. There were no prelims for this event. Her race started at 2 p.m. She received a time of 5:21.7 and finished in 10th place, running her second best mile. Hess ran really well and has the highest place finish ever recorded for an eighth grader in Paynesville girlís track history.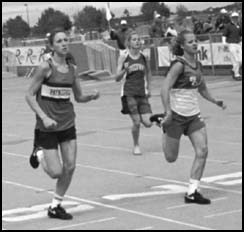 Rausch was getting ready for her last event at 3:10 p.m. As she was getting ready for the 400, she was also mentally prepared. She ended up running her second best time, a 59.60 to finish sixth in state and receive a medal.
Rausch earned All-State track honors by finishing in the top nine in her event. The All-State Award goes to the top nine places in the event.
Hess missed All-State recognition by one place. Her performance was still quite an accomplishment for an eighth grader.
ďI was really pleased with the races run by Tiffany and Jenny. The competition at state is such a higher level and to come home with a sixth and 10th place honors is really a job well done. They both ran their second best times and ran better than their average times in these events for the season,Ē said coach Dave Randgaard after the state meet.