Sportsman's Club cleans out carp trap on Koronis
This article submitted by Linda Stelling on 5/6/98.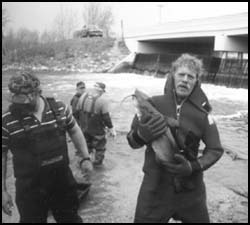 The Paynesville Sportsmen's Club netted the carp trap at the outlet of Lake Koronis recently.

Club members donate their time to this effort numerous times each year to keep the game fish from going down river and to remove carp and other rough fish from Lake Koronis.

The tally on this year's pull resulted in releasing 394 northerns; 564 walleyes, and 108 catfish back into the lake which would have otherwise gone downstream.

The catfish population in Lake Koronis seems to be doing very well, according to club members. Last year's pull yielded only 97 catfish with a top weight of about 12 pounds. Of the 108 netted this year, many were in the 18 to 20-pound range.

No fishing is allowed at the carp trap area of the dam and sportsmen's club members encourage everyone to help police the area.

Anyone interested in joining the Paynesville Sportsmen's Club or making a donation can do so by writing Box 255, Paynesville.
---