9th grade boys basketball places 2nd in tourney
This article submitted by Ric Koehn on 3/31/98.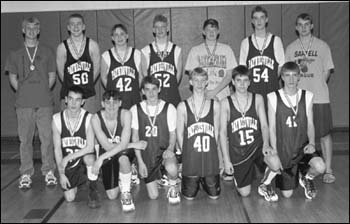 This past Saturday, the Paynesville ninth grade boy's basketball team finished second in the Region Five Pacesetter Tournament held in Paynesville.
The team started out with an easy 43-19 romp over Osakis. T.J. Schultz led the Bulldogs with 11 points. This set up a rematch of last year's championship game with Rocori which Paynesville lost. But this year, in the quarter finals, the Bulldogs stepped up to the challenge. After holding the Spartans to a 13-13 tie at halftime, the Bulldogs jumped all over Rocori in the second half for a 36-27 victory.
This led to a semifinal game against one of the finest ninth grade boys teams in Minnesota, the Farmington Tigers. The game could not have been closer. Tied at 16 at the half, the game continued back and forth through the second half. Finally, tied at 38 all, T.J. Schultz put in a two-pointer as the buzzer went to give Paynesville a 40-38 victory. J.T. Koehn led the scoring for Paynesville with 26 points, including three three-pointers in the second half.
For the second year in a row Paynesville played in the championship game. This time, their opponent was Long Prairie/Grey Eagle. The Bulldogs played a good game and led with just minutes to go, but could not quite hold on as the Thunder came back for a 50-44 win.
Second place earns the Bulldogs a trip in June to the State Pacesetter Invitational at the Whitney Center in St. Cloud.
Team members were: Logan Louis, Davis Hoekstra, T.J. Schultz, Trevor Schmitz, Nathan Martinson, Adam Gifford, Clayton Lang, J.T. Koehn, Andrew Jones, Eric Rausch, and Brian Stelling. The team was coached by Steve Koehn and Josh Jones.
---