Boys track: Placed second at home meet
This article submitted by Josh Jones and Dan Johnson on 4/14/98.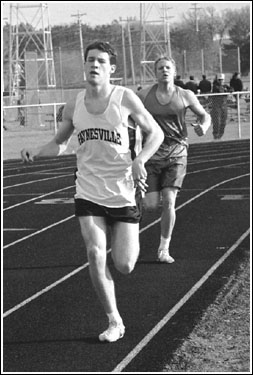 Dan Johnson placed first in the 1600-meter run
On Monday, April 6, the Paynesville boyís track team had their first official outdoor meet of the season. The meet was held at Paynesville, and you could not have asked for better weather.
Paynesville placed second out of the five teams. The Bulldogs had three first place finishes and seven second place finishes.
Team scores:
Holdingford............155
Paynesville...............89
Albany...................... 65
Maple Lake...............26
First place finishers included: Dan Johnson in the 1600-meter run, Luke Trees in the 800-meter run, and Clayton Lang in the 3200-meter run.
Casey Kavanagh placed second in the triple jump, with three leaps totalling 34í9Ē. He also jumped a personal best in the long jump, with 18í1Ē.
Eric Rausch ran an excellent 400- meter dash with a time of 55.11, which is also a personal best for the young eighth grader.
Freshman Eric Korman, placed fifth in the 800-meter run with a personal record of 2:20.93.

---