New golf pro hired at Koronis Hills course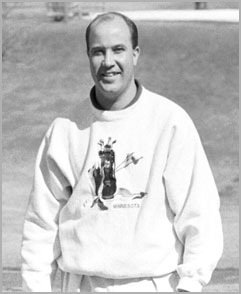 This article submitted by Linda Stelling on 04/08/97.
Ron Rebrovich is looking forward to the snow melting and getting a good look at the Koronis Hills Golf Club course.

Hired as the new golf pro/manager, Rebrovich said he has been involved with golf his whole life. A native of Hibbing, he is a 1992 graduate of the University of Minnesota where he played golf. The past four years he has been employed at Hazeltine Golf Course in the Twin Cities.

ďI enjoy playing the game of golf because of the competition as well as the social aspect. What other sport has people of all ages and ability levels playing together,Ē he added. From the business aspect, he likes dealing with the public and providing the needed customer service which brings people back to the golf courses. ďI enjoy being around people,Ē he said.

Rebrovich said he also enjoys teaching. It is fun and provides a person with satisfaction when the student gets to hit a shot of a lifetime.

Rebrovich said he has received several phone calls regarding when the golf course will be open for the season. Weather and ground conditions permitting, April 17 will be Menís Guest Night. Signup for league teams needs to be done by Saturday, April 19.

A grand opening is being planned for Saturday, June 14, for the new nine holes. ďThe new nine will enhance golfing opportunities for the community and area. The 18 holes will create new challenges for golfers,Ē Rebrovich said.

The new nine is tree lined with many holes cut out of the woods. Hole number 17 is a par three which will be the signature hole for the addition to the course. Rebrovich said there are quite a few elevation changes on the new section as well.

The golf course will be open the same hours as last year. Rebrovich will teach golf on availability. Interested individuals are to set up lesson times with him. He will be at the course six to seven days a week. Rebrovich is single and renting a place in the area.
---