Wrestling: Kerzman takes fourth at state meet
This article submitted by Zac Spates on 3/3/98.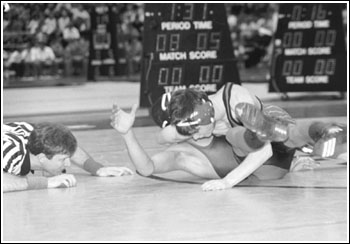 As the 1997-1998 wrestling season winds down, the avid fans found it was time for another trip to the state tournament to watch Paynesvilleís individuals.
This year, the Bulldogs traveled to state with five individuals competing for the state title. Three seniors, a junior, and a freshman left Paynesville on Wednesday afternoon to begin the stateís weigh-ins and skin checks. They checked out all right, and on Thursday morning the wrestling started.
In the first round of the state tournament, David Kerzman, a freshman, was the only one to defeat his opponent, Tyrell Reeves from Fridley. Kerzman recorded a 15-0 tech fall over the Fridley senior.
Bill Stanger lost to Josh Barlage, Farmington, in a close match at 171 pounds. Justin Mueller was beaten out by David Hendrickson, a junior from Montevideo. Ryan Stoneburner was pinned in the first round by Kyle Rose of Morris Area/Hancock. Colby Scheierl lost a close match to Dan Wagner, a senior from New Prague. All had very tough matches, and only lost by a couple of points to their opponents.
Since a high school rule states if you lose to an opponent, and then that opponent loses in the next round, you are automatically out of the tournament. Unfortunately, that happened to all of the Paynesville wrestlers in the second round that lost in the first.
That left only David Kerzman. He won his second round match by a pin to Ezra Blair from Cannon Falls, in 4:46. which then placed him in the semifinals.
In the semifinal action, Kerzman had to wrestle the defending state champion, Matt Strawser of Wadena-Deer Creek. Kerzman lost to him, 11-2. The loss put him down into the wrestlebacks.
In the wrestlebacks, Kerzman won his first match against Scott Meyer from Foley, which earned Kerzman a chance to wrestle for third or fourth place.
In the third place match, Kerzman had to wrestle Ty Eustice from Blue Earth. Ty, a freshman, was a state champion at 103 pounds last year. The match was very close and in the end Eustice inched ahead 2-1 of Kerzman, to place third in the tournament. With that disappointing loss, Kerzman took fourth place, but he earned a lot of recognition for the years to come.
Kerzman finished the year 35-5, Mueller, 24-11; Stoneburner, 27-11; Scheierl, 33-4, and Stanger, 23-14.

---