Thunderin' Toms released wild turkeys in area
This article submitted by Linda Stelling on 3/24/98.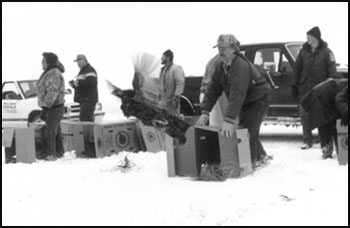 An avid sportsman, Ron Welle, Spring Hill, is out promoting a relatively new club, the Stearns County Thunderiní Toms, a chapter of the National Wild Turkey Federation (NWTF)

Just a year old, the new chapter recently released 21 wild turkeys at the Manannah Wildlife Management Area near Eden Valley.

This was the second wild turkey release held in Stearns County. In January of 1997, 23 were released near Spring Hill. After the turkeys are trapped, blood tests are taken for disease checks. Then the birds are transported to their new home and released within 24 hours of capture.

The turkeys are captured in southeastern Minnesota and released in Stearns County to help promote the growth of the wild birds. The capture and release program is part of the Target 2000 project to build up the turkey population in Minnesota.

Target 2000 is the cooperative initiative among state and federal wildlife agencies and the National Wild Turkey Federation to restore wild turkeys to all remaining unoccupied habitat in the U.S. by the year 2000.

Welle feels the project has been working. ďThere are more than 30,000 birds in Minnesota,Ē he added. ďIt is illegal to hunt wild turkeys without a license.

Welle also discourages people from feeding wild turkeys during the winter months. ďBy feeding the birds, that draws them to one spot, making it easier for predators to capture them. A superfund pays farmers to leave crops in their fields near habitat areas. In the spring, the farmers can harvest whatever crop is left.Ē

ďThis winter has been very good for wildlife,Ē Welle said. ďWild turkeys can withstand temperatures up to 20 below.Ē

Welle said the perfect habitat for wild turkeys is near oak trees as acorns are their main food source. They also eat wild berries. ďThey are a hardy bird,Ē he added.

An average tom weighs up to 24 pounds, while a hen weighs eight to 12 pounds and jakes (young males) average 14 to 18 pounds.

When roosting, a turkey will fly straight up to a tree branch. They roost in the highest tree branch even when itís 20 below zero,Ē Welle said. ďThe closer they are to the sun, the better, it allows the sun to penetrate their thick feathers so they can stay warm.Ē

ďAt 100 yards, a wild turkey will lock in a hunterís or other animalís position within five feet,Ē Welle said. ďThey know where you are.Ē The birdís eyesight and hearing is 100 times better than humans and they are able to distinguish colors.

ē†ē†ē

There are 40 to 45 wild turkey chapters in Minnesota. Fourteen of the chapters started last year. The Stearns County Thunderiní Toms have 160 members.

Nationwide, there are 740 chapters in 49 states and Canada and 132,000 members in 50 states and eight foreign countries.
According to the National Wild Turkey Federation, more than 8,000 wild turkeys have been relocated with NWTF assistance as part of its restoration efforts.

The purpose of the National Wild Turkey Federation is the conservation of the wild turkey and the preservation of the turkey hunting tradition. Focusing on the wild turkey but benefiting many natural resources, the NWTF accomplishes its conservation mission by working on many fronts, forging relationships and uniting diverse groups toward common goals.

In 1973, there were an estimated 1.3 million wild turkeys and 1.5 million turkey hunters. Today, there are an estimated 4.2 million wild turkeys and about 2.5 million turkey hunters.

Project Help (Habitat Enhancement Land Program) is an NWTF program developed to assist landowners with their wildlife habitat programs by providing guidance on creating and maintaining openings and other essential habitat components on their land, as well as providing seeds and seedlings for habitat enhancement at very competitive prices.

---