Jaycees hold sub-region wrestling tourney
This article submitted by Linda Stelling on 3/17/98.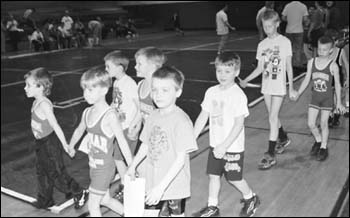 Elementary wrestlers from nine communities competed Saturday at the sub-region competition hosted by the Paynesville Jaycees.

Wrestlers weighed in anywhere from 43 to 221 pounds. Weigh-in started at 9 a.m. with wrestling action getting underway a little after 10 a.m. in the Paynesville Area High School gym.

Competing in Paynesville were wrestlers from St. Cloud, Kimball, Atwater-Cosmos-Grove City, Belgrade-Brooten-Elrosa, Litchfield, Melrose, Sartell, Eden Valley, and Annandale.

The region competition will be held on Saturday, April 4, in Sauk Centre.

First and second place finishers advance to region. Paynesville wrestlers advancing include (by grade):

Kindergarten: Josh Veldkamp, Justin Wendlandt, Kohl Nehowig, and Eric Wolbeck.

First grade: Riley Sampson, Zachary Fuchs, Joshua Fenske, Ryan Peterson, Mike Wendlandt, Brutger Mrozek.

Second grade: Cyril Storkamp, Jordon Christian, Keegan Meagher, Ted Hoffman, and Cory Spanier.

Third grade: Robert Haagenson, Tony Ahrens, Randy Leyendecker, Brad Torborg, Aaron Burris, Cole Kampsen, and Richard Johnson.

Fourth grade: Aaron Bachman, Dustin Utsch, Andrew Christian, Matt Mergen, Mitchell Mueller, Joel Kerzman, John Hemingson, Joey Sheridan, and Tom Stoneburner.

Fifth grade: James Jansen, Josh Tebben, and Jack Mueller.

Sixth grade: Brandon OíDer, Ryan Knisley, Chad Wyffels, Pat Utsch, Matthew Kerzman, David Butler, and Trever Stanger.

---