Young gymnasts attend mini-camp
This article submitted by Maria Wegner on 2/25/97.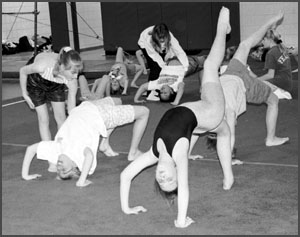 The young gymnasts do back bends at the mini-camp put on by the high school gymnastics team.

With the completion of their competitive season, the Paynesville gymnastics team is holding their annual mini-camp, which began last Tuesday, Feb. 18. The mini-camp is held as a fund raiser, rather than selling products door to door; and the money is used to purchase new equipment, mats, and floor music.
This year there are thirty-five third thru sixth graders participating. They come on eight different days to learn new skills and have fun.
The future of Paynesville's gymnastics program lies within the younger girls, and the mini-camp gives them the opportunity to experience what gymnastics is all about.
When asked why she likes coaching mini-camp, freshman Krysta Larson said, ďI have fun being around the little kids.Ē
ďI have a lot of fun coaching these girls, because they look up to me. At meets, they sit in the stands and say hi when I walk past, and mini-camp gives me a good opportunity to get to know the girls better. Besides that, they think that I am crazy in the gym, due to my enthusiasm, so we have fun together,Ē said junior Maria Wegner.
ďI am really pleased with the numbers and quality of girls participating,Ē said coach Diane Dutcher.
Just an extra note: Section 6A, the section Paynesville is in, was well represented at the state meet on Friday and Saturday. Sauk Rapids won the team title on Friday by more than three points. (In gymnastics that is a lot.)
On Saturday, Feb. 22, the individual competition was held. Three of the top five vaulters came out of Section 6A, as well as many other top five placings.
---