Five wrestlers going on to state competition

Fuchs named Assistant Coach of the Year This article submitted by Zac Spates on 2/24/98.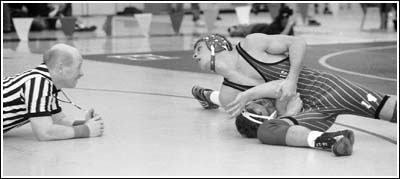 On Friday and Saturday, Feb. 20 and 21, the Bulldog wrestlers finished off the season with the Section 5AA individual tournament in New London.

Five Paynesville wrestlers will be representing Paynesville at the 1998 state tournament.

They are (left to right above): David Kerzman, Justin Mueller, Colby Scheierl, Ryan Stoneburner, and (on the top of the page) Billy Stanger. Stanger was the champion at 171, the others all took second places.

Placing third were Jeremy Sogge, Chris Welle, Ryan Glenz, Karl Sanborn, and Jona Welle.
Prior to the start of wrestling action Saturday night, it was announced Steve Fuchs, Paynesvilleís assistant coach, was named District Assistant Coach of the Year. Fuchs has been the assistant coach in Paynesville for the past 11 years. He was also a state entrant in wrestling for Paynesville in 1977, 78 and 79.
Paynesville had three wrestlers ranked first (David Kerzman, Ryan Stoneburner, and Colby Scheierl), and one ranked second (Billy Stanger) at the start of the tournament.
The teams competing in the region tournament were: Litchfield, Albany, Melrose, New London-Spicer, Sauk Centre, Rocori, Dassel-Cokato, Paynesville, Delano, Glencoe-Silver Lake, and Annandale-Maple Lake.

---