Girls hockey: Goalie sets record with 83 saves in a game
This article submitted by Courtney Karsch on 1/27/98.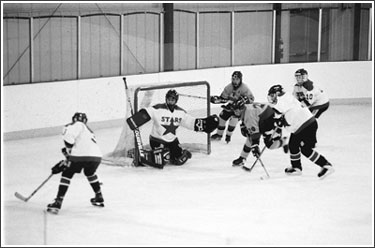 On Tuesday, Jan. 20, the Stars faced the St. Cloud Icebreakers. The Stars knew this was going to be a very tough game, one of their biggest games of the year. However, they couldnít pull off a win, losing 1-0.
Goalie Shari Vogt broke the boys record and also the state record which was 65 saves. Vogt ended up saving a total of 83 shots on goal. ďIím a goalie and itís my job to stop shots and thatís what I did,Ē said Vogt.
Icebeakers: 1
Stars: 0
---