January
After losing their first five games, the PAHS girls' basketball team reeled off six straight wins, beating BBE, Howard Lake-Waverly, Dassel-Cokato, Pine River, Sauk Centre, and St. Cloud Cathedral. Their winning streak ended with a loss to state-ranked New London-Spicer.

Koronis Hills Golf Club hired Cindy Fuchs as its new manager, replacing golf professional Ron Rebrovich, who had resigned in the fall of 2002 to take a new job at the Alexandria Country Club. Fuchs, who had worked for the golf course for ten years, was selected from a field of 20 candidates, including 15 golf professionals.

The Bulldogs wrestling team concluded an undefeated conference dual record and clinched the overall conference title by winning the West Central Conference Meet. Nine players earned All Conference honors and 13 of 14 placed in the top three at the conference meet.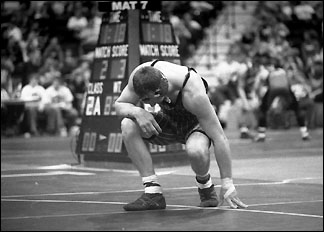 February
Senior Adam Christian became the 25th Paynesville wrestler to earn 100 career wins, getting his milestone victory with a pin against Milaca. Christian, a four-year varsity regular, helped the Bulldogs win a state title as a ninth grader. He finished his senior season with a 31-6 record and made a second trip to state as an individual. His career record was 110-50.
Litchfield beat Paynesville 48-18 in the Section 5AA wrestling final, advancing to state for the second straight year by beating the Bulldogs in the section final. Paynesville had wrestled Litchfield to a 30-30 tie earlier in the month, but the Dragons dominated the playoff match and proceeded to win their first state championship as a team. Four Paynesville wrestlers advanced to state individually - seniors Adam Christian, Marty Engen (pictured at left/above), and Ryan Glenz and ninth grader Sean Glenz - but no one placed for the Dogs.
March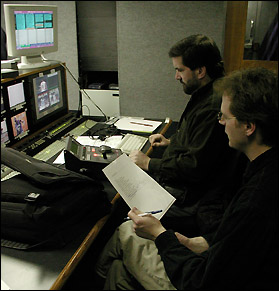 Regal native Trevor Fleck - a 1987 PAHS graduate - was profiled by the Press on the job as a television producer for Fox Sports Net. Fleck (at far right in the control room), who has worked in broadcasting in the Twin Cities for a dozen years, had produced sports shows for years, but had started producing live games only a year before. He had produced 50 Twins games during the summer of 2002 and 41 Timberwolves games in the winter of 2003.
The Minnesota State High School League announced new athletic section assignments for the 2003-04 and 2004-05 school years. Big changes for PAHS sports were wrestling dropping back to Class A and football dropping to Class AA.
April
Chuck Chesness recorded his second hole-in-one at Koronis Hills Golf Club, acing the par-3, 203-yard #7. Chesness had previously recorded a hole-in-one on #4 in October 2001.
May
The girls' track team finished second at true team sections. Mayer Lutheran, the defending state champions, won the meet, finishing nearly 100 points ahead of Paynesville in the nine-team meet at Holdingford.
Senior Morgan Martinson broke the girls' school record in the discus, throwing it 119' 1".
Junior Adam Kampsen threw a one-hitter, allowing only one unearned run, as the Bulldogs beat state-rated St. Cloud Cathedral 3-1 in a West Central Conference game. Later in the season, Kampsen threw a string of 21 shutout innings. Cathedral and Paynesville tied for second in the conference, and the Crusaders went on to win the Class AA state title.
Elda Mae Krupke - who has 22 grandchildren, including ten who have played or do play for PAHS - was selected as the 2003 Fan of the Year by the Bulldog Booster Club.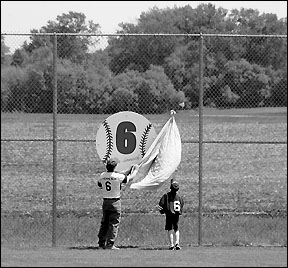 The 1,600-meter relay team of sophomore Kendra Johnson, senior Mandy Mayer, ninth grader Tara Schmidt, and ninth grader Brooke Schmitz set a new girls' school record, running the mile in 4:16.77 at the conference meet, winning the race by ten seconds and breaking the school record by two seconds.
The Lake Henry Lakers retired Lynn Hemmesch's #6, unveiling a sign in leftcenter field at the ballpark in Lake Henry. Randy and Nick Hemmesch unveil Lynn Hemmesch's #6 uniform on the fence at the ballpark in Lake Henry. Hemmesch, a longtime amateur player and manager, died in a farm accident in August 2002. His #6 jersey was worn for the last time competitively by Lake Henry catcher Jon Lieser, who was drafted to play in the 2002 amateur state tournament.
Sophomore Kendra Johnson (center in picture below) broke the girls' school record in the 300-meter hurdles for the second time, running the event in 47.9 seconds at the Section 5A meet at St. John's University. Johnson placed third in the event, missing a trip to state by 0.64 seconds. She had broken the school record earlier at a home meet in April.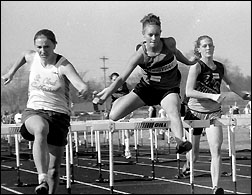 Senior Josh Kampsen hit four homers in two games as the Bulldogs baseball team repeated as subsection champs, winning their fifth subsection title in 12 years. He added another homer in a section game, tying the school record with ten homers in a season, but the Dogs lost twice at sections and missed a repeat trip to state. Kampsen and coach Brad Skoglund were picked to play and manage in the 2003 Lions All Star Series later in the month.
June
Carol Smith, who coached for 31 years, retired from PAHS. Smith had been a pioneer for girls' sports, starting five varsity sports - basketball, gymnastics, softball, track, and volleyball - and serving as head coach for each at one time.
Former PAHS standouts Clayton Lang and Jen Hess won the mens' and womens' 10k road races around Lake Koronis for Town and Country Days. Lang runs collegiately at South Dakota State University, and Hess runs for the University of Minnesota.
July
Paynesville native Ralph Weber was inducted into the Minnesota Trapshooting Hall of Fame, both as a shooter and a supporting member. Weber, of White Bear Township, won the 1985 state championship and has been involved in organizational posts for local clubs and on the state level for many years.
The St. Martin Martins won ten straight games in the Stearns County League and won the South Division title with a record of 11-2.
The boys' and girls' golf teams from Koronis Hills Golf Club advanced to state in Junior MGA competition. Team members were Heather Fuchs and Amber Jensen for the girls and Ross Barten, Justin Bork, Zach Fuchs, and Mitchell Mackedanz for the boys.
Paynesville's 15-year-old baseball team placed second in the state at an 18-team tournament sponsored by the Minnesota Sports Federation. The team - which had qualified for state as 13-year-olds and taken fourth as 14-year-olds - went 4-2 in the three-day tournament in Eagan, beating teams from Burnsville, Mankato, Plymouth, and Shoreview and losing to teams from Apple Valley and Brainerd, the eventual state champ.
Four holes-in-one were recorded in July at Koronis Hills, setting a new record for most holes in one month at the local golf course. Ryan Wall aced #17 on July 3, lake resident Ron Regan aced #10 on July 9, 12-year-old Jesse Caldwell aced #4 on July 30, and Randy Beier aced #4 on July 31, recording the record-setting hole-in-one in near darkness on the last day of the month.
August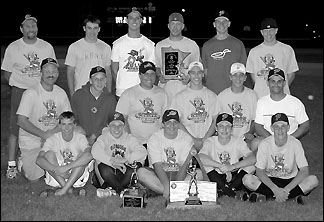 Paynesville's American Legion baseball team won their first state title (pictured at left with trophies), sweeping three games in Ely. The team won the Division II title by beating Jackson 10-7, New York Mills 3-1, and Nashwauk-Keewatin 15-5. Adam Kampsen was named tournament MVP by going 9-13 with three homers and 13 RBIs in three games.
Paynesville, who won three games at districts and four at regions to advance to state for the fourth time in seven years, advanced to play in a national tournament in Viroqua, Wis. At this eight-team tournament - featuring teams from Iowa, Kansas, Minnesota, North Dakota, and Wisconsin - Paynesville went 1-2 despite having the youngest team at the tournament.
Randy Beier and Heather Fuchs won their first club championships at the Koronis Hills Golf Club. During the club tournament, Brian Weiss holed his tee shot on #13, recording the sixth hole-in-one at KHGC in 2003.
September
Paynesville's American Legion baseball team was honored - with other youth baseball state champs - on the field of the Metrodome before a Twins game.
October
Jen Hess, a sophomore at the University of Minnesota, won her first collegiate race, taking first at the four-team Iowa State Memorial Cross Country Meet.
Clayton Lang, a junior at South Dakota State University, helped the Jackrabbits win their fourth consecutive North Central Conference title. Lang was 11th overall and the fourth runner for SDSU, which has won 29 NCC titles and six national titles in men's cross country.
The Paynesville girls' cross country team just missed a third straight trip to state, finishing third in Section 5A behind St. Cloud Cathedral and Rockford. Ninth graders Kacy Nehowig and Tanis Beireis earned individual trips to state by placing in the top ten.
November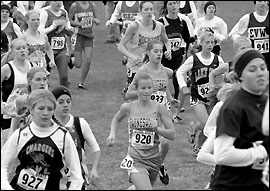 Ninth grader Kacy Nehowig (#920) earned All State honors for the second year, placing 18th again at the Class A state cross country meet. She became just the fourth PAHS female runner to earn multiple All State honors in cross country. Ninth grader Tanis Beireis (#933) just missed All State honors by nine seconds, finishing 33rd. The top 25 make All State.
December
The Bulldogs boys' and girls' basketball teams and the River Lakes Stars boys' hockey teams had strong starts to their winter seasons. The boys' basketball team won their first four games, including a last-second buzzer beater against St. Cloud Cathedral. The girls' basketball team started 6-1, including winning the championship at the Maple Lake tournament. The boys' hockey team won five of its first six games, matching its win total from 2002-03 in its first month of 2003-04.
---
Contact the author at editor@paynesvillepress.com • Return to Sports
Home | Marketplace | Community
---