PHS returns a strong team in gymnastics
This article submitted by Jenni Mayer on 12/1/98.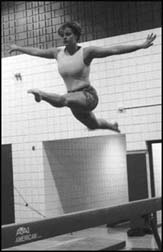 The Paynesville gymnastics team is preparing for another season.

There are 16 gymnasts on the team this year. Returning letterwinners are: Camille Flanders, Jen Moser, Krysta Larson, Tracy Miller, Amanda Reeck, Joy Hemmesch, Michelle Wolbeck, and Rachel Koehn.

There are only two seniors on the team. They are Camille Flanders and Jen Moser. Juniors on the team are Krysta Larson, Tracy Miller, and Amanda Reeck. The sophomores include Joy Hemmesch, Jenni Mayer, and Michelle Wolbeck. Freshmen consist of Kelli Fenske, Rachel Koehn, Steph Moser, and Amy Mueller. Middle schoolers on the team are eighth graders Amanda Mayer, Tessa Miller, and Jenni Yungk and seventh grader Nicole Utsch. The coaches are Diane Dutcher and Deb and Kyle Nehowig.

Captain Jen Moser said, ďI think we have a lot to improve on, but it should still be a successful season. The new seventh and eighth graders look promising and with hard work they will become good future leaders.Ē

When asked about her expectations of the team this year coach Dutcher said, ďI would like the team to work together and to challenge each other to achieve more skills which will improve their individ-ual scores and team scores.Ē

Dutcher also believes the attitude of the team is to work hard. ďAs coaches, we see the effort the girls are putting forth which help them achieve more difficult skills,Ē said Dutcher.

Captain Camille Flanders said, ďWe will miss our top two competitors who graduated last year but if we work hard we have a lot of potential.Ē

Their first meet is on Thursday, Dec. 3, against Morris at home. Junior varsity competition starts at 6:30 p.m. with varsity following.

---