Prairie Centre scored in the last 30 seconds to defeat the River Lakes Stars boys' hockey team 6-5 on Tuesday, Dec. 21, in Richmond.

Prairie Centre's goal, with 26 seconds to go, capped a back-and-forth third period that featured seven goals and four lead changes. Prairie Centre outscored the Stars 4-3 in the final period to win 6-5.

The game was tied 2-2 entering the third period, and senior Andy Schramel gave the Stars a 3-2 lead less than a minute into the third. Prairie Centre - a combined team between Sauk Centre and LPGE - tied the game 3-3 with a power-play goal four minutes later.

Then senior Bo Sjoberg gave the Stars a 4-3 lead with a goal with just over 10 minutes to play, but Prairie Centre tied the game again a minute later.

Prairie Centre took a 5-4 lead with a goal with five minutes to play, but the Stars rallied to tie, getting the tying goal from junior Zach Johnson 30 seconds later.

Prairie Centre scored last, getting a power-play goal with 26 seconds left for the victory at the River Lakes Arena in Richmond.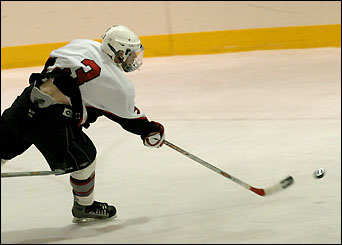 Of the 34 minutes over the first two periods, Prairie Centre led 1-0 for 90 seconds, River Lakes led 2-1 for two minutes, and the game was tied for more than 30 minutes. After Prairie Centre opened the scoring with four minutes to play in the first period, sophomore Taylor Endres scored for the Stars to tie the game at 1-1.
Senior Andy Schramel scored a goal and had an assist as the Stars lost to Prairie Centre 6-5 on Tuesday, Dec. 21, in Richmond.
Junior Jamie Paul scored for the Stars four minutes into the second period, but Prairie Centre answered with a goal two minutes later.
Prairie Centre outshot the Stars 46-26. Sophomore Brian Skluzacek stopped 40 shots for the Stars.
This week, the Stars are playing in a tournament, hosted by Blaine, on Tuesday, Dec. 28, Wednesday, Dec. 29, and Thursday, Dec. 30. The varsity games will actually be held at the Aldrich Arena in Maplewood. (To get to Aldrich Arena, take I-694 to Co. Rd. 65 south, which turns into White Bear Avenue.)
The Stars (3-5) played St. Thomas Academy on Tuesday to start the tourney. On Wednesday, they will play at 12:30 p.m. if they lost yesterday and at 6 p.m. if they won. Thursday games are at 3 p.m. for seventh place, 6 p.m. for fifth place, and 8:30 p.m. for third place at Aldrich Arena. The championship game will be held at the Xcel Energy Center in St. Paul at 3 p.m. on Thursday afternoon.
Other teams in the tournament are Austin, Cretin-Derham Hall, Eastview, Greenway, Orono, and Totino Grace.
The junior varsity also is playing in the tournament. All junior varsity games will be held in Brooklyn Park.
Next week, the Stars will play at Brainerd on Tuesday, Jan. 4.
| | | | | |
| --- | --- | --- | --- | --- |
| Prairie Centre-- | 1 | 1 | 4 | - 6 |
| River Lakes-- | 1 | 1 | 3 | - 5 |
Scoring Summary
First Period: PC-Jeff Chalich (David Hillman, Mike Jorgenson), 3:53; RL-Taylor Endres (Kurt Peterson), 2:36;
Second Period: RL-Jamie Paul (Alex Naujokas, Blake Williamson), 13:03; PC-Tyler Graves (Roman Meier), 10:50;
Third Period: RL-Andy Schramel (Ryan Weber, Luke Harren), 16:12; PC-Graves (Taran Engle), 12:09 (pp); RL-Bo Sjoberg (Williamson), 10:27; PC-Chalich (Hillman, Graves), 9:36; PC-Hillman (Graves, Chalich), 4:57; RL-Zach Johnson (Schramel), 4:32; PC-Matt Engrebretson (Andrew Moritz, Anthony Carpenter), 0:26 (pp).
---
Contact the author at paypress@lkdllink.net • Return to Sports
Home | Marketplace | Community
---