Annandale escaped with a 52-50 victory in a nonconference boys' basketball game on Tuesday, Dec. 21, as the Dogs' second-half rally fell just short.

The Bulldogs scored the first ten points of the fourth quarter, rallying from a 42-34 deficit to take a 44-42 lead with four minutes to play. The two teams exchanged the lead seven times over the last four minutes, including twice in the final minute.

Sophomore Cory Nietfeld, who led the Dogs' fourth-quarter charge with eight points in the final quarter, hit a six-foot bank shot on an inbounds play to give the Dogs' a 50-49 lead with 54 seconds to play, but Annandale senior guard Adam Berg hit a 15-foot jumper 15 seconds later to give Annandale a 51-50 lead.

The Bulldogs missed two shots for the lead in the final 30 seconds, and nearly had a chance for a third shot but junior Aaron Braun's foot was on the out-of-bounds line when he grabbed an offensive rebound with just under five seconds to play.

Trailing 51-50, the Dogs tried to send the Cardinals to the free-throw line but only had three fouls at that point. Using a full-court press, the Dogs fouled four times in four seconds, and an Annandale player made the front end of a 1-and-1 with 1.1 seconds to play. The Dogs rebounded his miss on the second shot but their three-quarter-court heave was well short at the buzzer.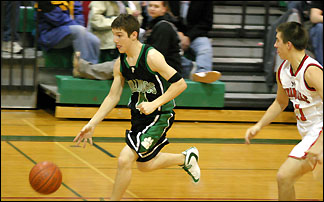 The Cardinals made six of their 11 three-pointers in the first quarter, taking a 24-12 lead. They had made nine three-pointers by halftime and led 35-26. For the game, the Cardinals made nine two-point shots and 11 treys.
Junior guard Trent Hansen scores a layup after making a steal in the fourth quarter against Annandale on Tuesday, Dec. 21.
"The Cardinals came out hot from downtown to outscore us in the first quarter. We had one bad stretch where we gave them three easy buckets, but after that it was a tremendous effort by our team to win the three other quarters and grab the lead in the fourth," said coach Phil Carlson.
Annandale led by as many as 14 points in the third quarter, but the Dogs rallied. Sophomore guard Mike Houske keyed a six-point run for the Dogs in the third quarter, scoring on a short jumper, getting a steal to set up a score, and assisting Braun on an alley-oop layup.
Still trailing 42-34 to start the fourth quarter, Nietfeld hit a short jumper, junior guard Trent Hansen converted a steal into a fastbreak layup, Nietfeld drove for a layup, and junior Derek Stanger hit a 14-foot jumper to tie the score 42-42.
When Annandale missed on their next possession, Nietfeld grabbed the board, hit junior Mark Andrie with an outlet pass, and Andrie passed upcourt to Stanger for a fastbreak layup that gave the Dogs a 44-42 lead with four minutes to play.
Over the last four minutes, the teams exchanged the lead seven times. Annandale hit a three to take a 45-44 lead, but Nietfeld hit a short bank shot to regain a 46-45 advantage. Annandale then scored a layup, but sophomore Ben Moser answered with a short jump hook and Paynesville led again 48-47.
Annandale made another layup with two minutes to go and led 49-48. Both teams missed shots on their next possession, setting the stage for the final-minute drama, with Annandale prevailing.
"We had our chances to stretch out the lead and so did they. We had a good look with about eight seconds to go…We thought we got fouled, but no call was made," said Carlson.
"The intensity and action was elevated, and there will be many more action-packed games like this. The fans were loud and revved up," added Carlson.
The Bulldogs have not beaten Annandale in boys' basketball since February 1999. This was the closest the Dogs have come since then to beating the Cardinals.
Nietfeld and Moser recorded double-doubles for the Bulldogs. Nietfeld had 14 points and 12 boards, and Moser had 12 points and 10 rebounds.
The Dogs (2-5) do not play again until January. Their next game is Thursday, Jan. 6, when they will host Sauk Centre.
| | | | | | |
| --- | --- | --- | --- | --- | --- |
| Annandale-- | 24 | 11 | 7 | 10 | - 52 |
| Paynesville-- | 12 | 14 | 8 | 16 | - 50 |
SCORING: (FG-FT/FTA-PTS)
Annandale 52 - Adam Berg 8-0/0-17; Chad Hansen 4-0/0-12; Jake Kovall 3-0/0-9; David Queck 2-1/2-7; Brett Thompson 2-0/0-5; Ryan Larson 1-0/1-2; TOTALS: FG 20, FT 1/3, 3's 11.
Paynesville 50 - Cory Nietfeld 7-0/1-14; Ben Moser 6-0/1-12; Mark Andrie 1-4/5-6; Aaron Braun 2-1/1-5; Derek Stanger 2-1/2-5; Trent Hansen 2-0/1-4; Mike Houske 2-0/0-4; TOTALS: FG 22, FT 6/11, 3's 0.
STATISTICS: 3-pointers - 0; Rebounds - 33 Nietfeld 12; Moser 10; Assists - 14 Hansen 5; Steals - 10 Stanger 4; Nietfeld 3; Hansen 2; Blocks - 2 Nietfeld 2.
---
Contact the author at paypress@lkdllink.net • Return to Sports
Home | Marketplace | Community
---