The Bulldogs scored a season high with 111.95 points, including ten individual placers, in a home gymnastics loss to Maple Lake on Thursday.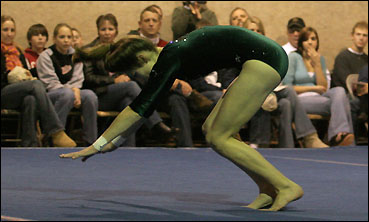 The Dogs beat the Irish on the balance beam (27.85 to 27.15) and nearly won the vault (32.35 to 32.5) while the Irish won the uneven bars (by 2.8 points) and the floor exercise (by 2.35 points) and won the meet by 4.6 points.
The audience in the gymnasium at the Lake Koronis Assembly Grounds watches seventh grader Caitlyn Gottwald make a tumbling run on Thursday night. The Dogs lost to Maple Lake 116.55 to 111.95 last week, with the Dog scoring a season high.
Senior Kayla Nelson won the balance beam with a score of 8.05 for the Dogs, and ninth grader Anna Kotten won the bars, vault, and the all around. Kotten, who was also second on the floor and third on the beam, scored 8.5 to win the vault, 7.9 to win the bars, and 31.8 to win the all around (for the second time this year).
Junior Celia Frieler also placed fifth on the balance beam, giving the Dogs the first, third, and fifth spots on their way to winning that apparatus.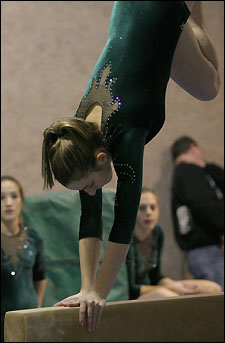 Other placers for the Dogs were: sophomore Brittney Spanier (third on the bars), seventh grader Megan Wuertz (third on the vault), sophomore Cassey Lund (fifth on the vault), and Nelson (fifth on the floor). Spanier placed for the third time this year on the bars; Frieler and Wuertz for a second time each on the beam and vault respectively; and Lund for the first time this year.
Junior Celia Frieler placed fifth on the balance beam last week for Paynesville against Maple Lake, helping the Dogs win that apparatus.
The Dogs do not have another meet until January. Next week, they will host Litchfield at the Lake Koronis Assembly Grounds on Tuesday, Jan. 3.
| | |
| --- | --- |
| Maple Lake-- | 116.55 |
| Paynesville-- | 111.95 |
Individual Results
Vault: Anna Kotten (1) 8.5; Megan Wuertz (3) 8.15; Cassey Lund (5) 7.95; Brittney Spanier 7.75; Caitlyn Gottwald 7.7; TOTAL: Pay - 32.35; ML - 32.5;
Uneven bars: Kotten (1) 7.9; Spanier (3) 6.75; Wuertz 4.35; Celia Frieler 4.1; TOTAL: Pay - 23.1; ML - 25.9;
Balance beam: Kayla Nelson (1) 8.05; Kotten (3) 7.6; Frieler (5) 6.7; Gottwald 5.5; Spanier 4.6; TOTAL: Pay - 27.85; ML - 27.15;
Floor: Kotten (2) 7.8; Nelson (5) 7.45; Gottwald 6.9; Frieler 6.5; Lund 5.7; TOTAL: Pay - 29.65; ML - 31.0;
All around: Kotten (1) 31.8.
---
Contact the author at editor@paynesvillepress.com • Return to Sports
Home | Marketplace | Community
---