The River Lakes Stars boys' hockey team scored two first-period goals to take a 2-1 lead, but Fergus Falls scored three unanswered goals in the second period and won the Central Lakes Conference game 5-2 in Fergus Falls on Tuesday, Dec. 19.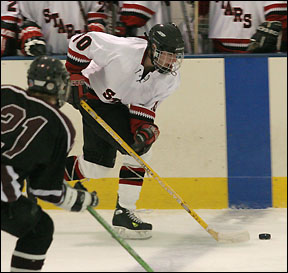 After the Otters scored in the first minute of the game, the Stars tied the score 1-1 with a goal by senior forward Max Lahr with just over 10 minutes left in the first period. Junior forward Brett Savelkoul scored three minutes later to give the Stars a 2-1 lead.
Senior forward Max Lahr - shown racing past the Stars' bench - scored a goal and assisted on another in the Stars' 5-2 loss to Fergus Falls last week.
All the Stars' scoring was credited to Paynesville players. Lahr scored a goal and assisted on Savelkoul's goal. Senior center Alex Naujokas assisted on both goals.
Fergus Falls tied the game 2-2 just over a minute into the second period, took a 3-2 lead with a power-play goal midway through the period, and scored their third goal of the second period with five minutes left in the period.
The Otters, who outshot the Stars 43-19, scored the only goal of the third period, a short-handed tally that made the final score 5-2.
Senior goalie Brian Skluzacek made 38 saves for the Stars.
The Stars were scheduled to play at Alexandria on Thursday, Dec. 21, but this game was postponed due to inclement weather. It has been rescheduled for Thursday, Feb. 8.
This week, the Stars (1-7) will play in a holiday tournament at the Willmar Civic Center. On Wednes-day, the Stars will play Prairie Center at 6 p.m. (with the junior varsity playing at 4 p.m.). On Thursday, they will play host Willmar at 8 p.m. (with no junior varsity game). And on Friday, they will play Redwood Valley at 6 p.m. (with the junior varsity playing Willmar at 4 p.m.).
| | | | | |
| --- | --- | --- | --- | --- |
| River Lakes-- | 2 | 0 | 0 | - 2 |
| Fergus Falls-- | 1 | 3 | 1 | - 5 |
Scoring Summary
First Period: FF-Cody Peck (Andrew Anderson, T.J. Gaarstand), 16:11; RL-Max Lahr (Alex Naujokas), 10:42; RL-Brett Savelkoul (Lahr, Naujokas), 7:53;
Second Period: FF-Mac Abel (Anderson, Derek Smith), 15:52; FF-Peck (Josh Lindsey, Brian Sawtell), 8:30 (pp); FF-Peck (Sawtell, Cody Koski), 4:57;
Third Period: FF-Logan Briese (Smith), 6:16 (sh).
---
Contact the author at editor@paynesvillepress.com • Return to Sports
Home | Marketplace | Community
---