The Paynesville Bulldogs boys' basketball team outscored New London-Spicer by 15 points in the second half on Friday night, winning a key conference game 69-58 and staying unbeaten in the West Central Conference North.

The Bulldogs (5-1) rallied from a 10-point deficit in the first half to beat New London-Spicer (4-2) for the first time since February 2001. Last year, NL-S went 25-5, including beating the Dogs twice, won the district title, and advanced to state.

Trailing 34-30 at the start of the second half, the Dogs used a 10-5 run to take the lead for good. Junior Ted Hoffman hit an 18-footer (his only basket) to give the Dogs the lead for good at 40-39 with 11 minutes to play.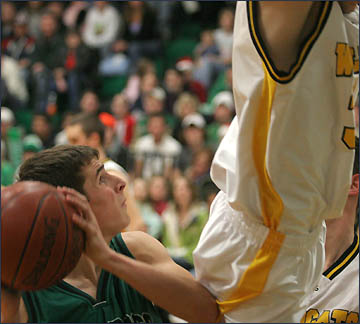 Senior Cory Nietfeld, who led the Dogs with 24 points and 11 rebounds, followed with a steal and a breakaway layup, getting fouled for a three-point play and a 43-39 lead.
The Wildcats got within two a couple times in the next four minutes, but the Dogs pulled away, starting with senior Ben Moser's three-pointer from the top of the key with seven minutes left for a 50-45 lead. This started an 11-2 run for the Dogs, finished with Nietfeld scoring back-to-back hoops, including a three-pointer on an inbound play, and Moser hitting two free throws for an 11-point lead at 58-47 with six minutes to go.
Senior Elliott Wall used a head fake to juke a Wildcat defender into the air on Friday night. Wall scored seven points and made three steals in the win.
Both teams scored 11 points the rest of the way, with the Dogs' lead never less than eight points, winning 69-58.
In the first half, the two teams combined to score 15 points in a little more than a minute to start the game, with the Cats hitting three three-pointers for a 9-6 lead. Following a free throw by Nietfeld, though, the Dogs went scoreless for nearly five minutes, as NL-S took a 14-7 lead.
The Cats proceeded with a 9-6 run to take a 10-point lead at 23-13.
Moser hit a three-pointer, senior Elliott Wall hit a three-pointer, Moser passed to Wall for a layup, and Moser made another trey, cutting NL-S's lead to three at 27-24.
The Cats outscored the Dogs 7-6 to take a 34-30 lead into halftime, with sophomore Nathan Nietfeld scoring the final four points of the half for Paynesville.
The Dogs improved to 2-0 in the West Central Conference North with the win, setting up a battle of conference unbeatens on Tuesday, Jan. 2, against defending conference champion Melrose, also 2-0.
With 147 points in six games so far this season, averaging 24.5 points per game, Cory Nietfeld has now scored 1,226 career points and moved within 60 points of the school's all-time scoring record of 1,286 career points set by Don Liestman in 1958. At his current pace, Nietfeld should break this school record in early January.
| | | | |
| --- | --- | --- | --- |
| NL-S-- | 34 | 24 | - 58 |
| Paynesville-- | 30 | 39 | - 69 |
SCORING: (FG-FT/FTA-PTS)
New London-Spicer 58 - Jordan Radel 6-3/3-15; Skylar Wachter 4-5/6-15; Wade Powers 4-6/10-14; Jackson Wright 2-0/0-5; Austin Hadley 0-3/4-3; Jacob Reiter 0-2/2-2; Chris Tengwall 1-0/0-2; Matt Dreier 0-1/2-1; Erik Tengwall 0-1/2-1; TOTALS: FG 17, FT 21/29, 3's 3.
Paynesville 69 - Cory Nietfeld 9-5/11-24; Ben Moser 8-2/2-21; Elliott Wall 3-0/0-7; Nathan Nietfeld 1-3/4-5; Colin Spooner 0-5/6-5; Mitchell Marlow 1-2/2-4; Ted Hoffman 1-0/0-2; Shane Kampsen 0-1/4-1; TOTALS: FG 23, FT 18/29, 3's 5.
STATISTICS: 3-pointers - 5 Moser 3; Cory Nietfeld 1; Wall 1; Rebounds - 39 Cory Nietfeld 11; Nathan Nietfeld 8; Marlow 7; Moser 7; Assists - 13 Spooner 3; Steals - 10 Cory Nietfeld 3; Nathan Nietfeld 3; Wall 3; Blocks - 4 Moser 2.
---
Contact the author at editor@paynesvillepress.com • Return to Sports
Home | Marketplace | Community
---