Improvement shown as Stars lose rematch
This article submitted by Jenny Habben on 12/27/00.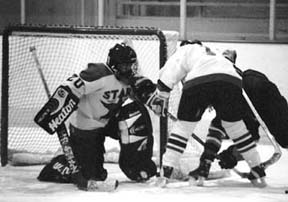 Despite defeat, the River Lakes Stars showed progress against Brainerd on Tuesday, Dec.19.

The River Lakes lost to Brainerd 8-1 in the beginning of the season, but they only lost 4-2 this time at the River Lakes Arena in Richmond.

"Our second outing was much more rewarding than the first as our team not only did a nice job defensively, but we also enjoyed our highest offensive output for the year," said coach Tom Petroski. "The game served as a nice reminder that we are improving as a team."

Stars goalie Trisha Wendlandt made 18 saves as the Stars lost a rematch to Brainerd 4-2.)

The Stars were outshot by the Warriors in the first period, 11-2. But Brainerd made one goal in this period. Early in the second period, Brainerd scored again to take a 2-0 lead.

Down by two goals, captain Marya Losinski skated coast to coast for an unassisted goal for the Stars.

Brainerd answered back with two more goals in the second period. One was scored by Megan Whalen, who also had two assists in the game. Erin Holzengel scored the other second period goal for Brainerd. She had two goals for the night.

The Stars had four shots on net in the second period, whereas the Warriors had eight.

The third period was full of advantages for the Stars, due to three penalties called on Brainerd. The Stars had six shots on goal in the third, but only scored one. They outshot Brainerd 6-3 in the third.

Losinksi again had a great breakout and was able to go the distance and score again to make the score 4-2. The Stars were unable to score again, but they shut out Brainerd in the third.

The Stars even pulled their goalie, Trisha Wendlandt, to have an extra skater on the ice. They came close to scoring but were unable to get any more goals.

The Stars are now 0-9-1 for the season.

The Stars' game at Benson on Thursday, Dec. 21, was postponed due to the weather. This game will be played in January, but the date was not known at press time.

River Lakes is playing in the Holiday Cup in Blaine this week. Their first game was on Tuesday night against the St. Paul Stars. They played either Cambridge-Isanti or International Falls on Wednesday.

They will play their final game on Thursday. Tournament action starts with the consolation final at 12:15 p.m. and ends with the championship game at 4:15 p.m. The tournament is held at the super rink at the National Sports Center in Blaine.
| | | | | |
| --- | --- | --- | --- | --- |
| Brainerd-- | 1 | 3 | 0 | - 4 |
| River Lakes-- | 0 | 1 | 1 | - 2 |
First Period: Goals (assists): B– Erin Holzengel (Natalie Dunphy, Megan Whalen). Second Period: Goals: B–Dunphy (Whalen); RL–Marya Losinski (unassisted); B–Whalen (Becky Plestel, Dunphy; Hozengel (Dunphy). Third Period: Goals: RL–Losinski (unassisted). RL Opp Penalties (#-minutes) 0-0 3-6 Shots on goals 12 22 Saves 18 10
---