The Paynesville Bulldogs stayed undefeated in conference action with a 39-21 victory over Sauk Center on Tuesday, Dec. 17.

The Dogs, in their first home match of the season, moved to 3-0 in West Central Conference North with only one conference match to go against Albany in January. (The WCC North has only five wrestling teams this year since Litchfield moved to the Wright County Conference.)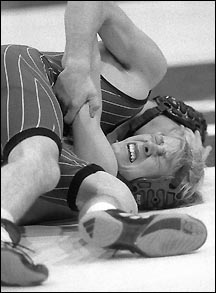 Sauk Centre won four of the first seven matches, but the Dogs still led 15-14 thanks to bonus points. Sophomore Cory Christensen got four points for a major decision at 112, senior Pat Noonan earned six points for a pin at 119, and senior Adam Christian got five points for a technical fall at 135.
Senior Pat Noonan scored a fall for the Bulldogs at 119, causing his Sauk Centre opponent to grimace before getting his pin.
Sauk Centre, on the other hand, won a technical fall and three decisions, including two close ones. State-rated ninth grader Sean Glenz of Paynesville lost 7-6 to state-rated Zach Winter of Sauk Centre at 130. Glenz rallied to take a 6-5 lead with two third-period takedowns, but gave up a late reversal to lose by a point.
Bulldogs senior Josh Johnson nearly upset a 9-2 wrestler, losing 10-7. But the Paynesville coaches thought he had earned seven additional points (for a reversal and two near falls) that were not awarded to him.
Paynesville won five of the last seven weights to secure the victory. Ninth grader Joel Kerzman started the string with an 8-3 decision at 152, and senior Josh Kerzman followed with a pin at 160.
In the marquee match of the night, Sauk Centre junior Ethan Vogt defeated Paynesville senior Ryan Glenz 4-3 at 171. Both are rated in state and wrestled at state a year ago, where Vogt won the 171-pound title. Glenz beat Vogt three times a year ago, but this time Vogt prevailed. Glenz scored first with a three-point near fall in the second period, but Vogt got a reversal and two-point near fall later in the same period to win.
Senior Marty Engen scored his 100th career win with a pin at 189 (see story on page 1B), and junior Pat Utsch added another pin at 215. Engen, Utsch, and Adam Christian are undefeated so far for the Dogs.
At 275, senior Brad Person improved to 9-1 with a last-second takedown to win 3-1. And in the final weight, Sauk Centre got a major decision at 103 to make the final score 39-21.
The Bulldogs are now 3-0 in the conference and 8-2 overall.
The Bulldogs do not wrestle again competitively until January. Their next matches will be at a tourney in Farmington on Saturday, Jan. 4.
Paynesville 39, Sauk Centre 21
112-Cory Christensen (P) maj. dec. Jozy Olson, 16-6; 119-Pat Noonan (P) pinned Brian Ruegemer, 1:53; 125-Zach Winter (SC) tech. falled Jack Mueller, 16-0; 130-Darrin Quistorff (SC) dec. Sean Glenz, 7-6; 135-Adam Christian (P) tech. falled Steve Hollenkamp, 17-0; 140-Kurt Haakinson (SC) dec. Justin Reeck, 4-0; 145-Cody Olson (SC) dec. Josh Johnson, 10-7; 152-Joel Kerzman (P) dec. Jamie Messer, 8-3; 160-Josh Kerzman (P) pinned Nathan Reynolds, 2:25; 171-Ethan Vogt (SC) dec. Ryan Glenz, 4-3; 189-Marty Engen (P) pinned Nick Ruegemer, 3:36; 215-Pat Utsch (P) pinned Pat Stephan, 1:11; 275-Brad Person (P) dec. Matt Groetsch, 3-1; 103-Brian Beilke (SC) maj. dec. Andrew Christian, 11-2.
---
Contact the author at editor@paynesvillepress.com • Return to Sports
Home | Marketplace | Community
---