With the slap of the mat last week, senior Marty Engen became the 24th Paynesville Area High School wrestler to reach 100 career wins.

Engen pinned Nick Ruegemer of Sauk Centre in the second period on Tuesday, Dec. 17, to earn his 100th career victory, improving to 10-0 this season for the Bulldogs.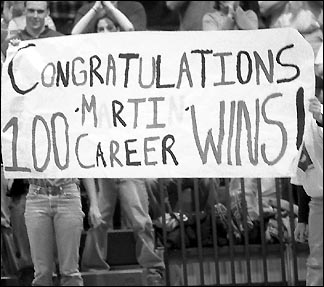 He got his first varsity wrestling matches for Belgrade-Brooten-Elrosa as an eighth grader and wrestled as a regular for the Jaguars as a ninth and tenth grader, having a record of 47-27 for BBE. Since open enrolling at Paynesville last year, he has gone 53-1, improving his career record to 100-28.
Fans hold aloft a sign congratulating Marty Engen following his 100th career win on Tuesday, Dec. 17.
"I was pretty excited, I guess," he said of reaching the career milestone. "It's pretty hard to get 100 wins."
Last year, Engen became the eighth Bulldog wrestler to win a state title, claiming the Class AA crown at 189 pounds.
This year, Engen is wrestling at that weight again, as well as at the new 215-pound weight class. (Engen, who weighs around 182 pounds - he can't gain any more, he said - can give up over 30 pounds when he wrestles at 215. This is like a 119-pounder wrestling at 140 or a 135-pounder at 160.)
"I'd like to make it to state as a team and make it to state as an individual again and see if I can win it again," he said, explaining his goals for his senior season. "And try to stay undefeated as an individual, which is tough to do. And to have fun, I suppose."
His teammates help him do that, he said. "It's fun because the people I practice with make it fun," he said.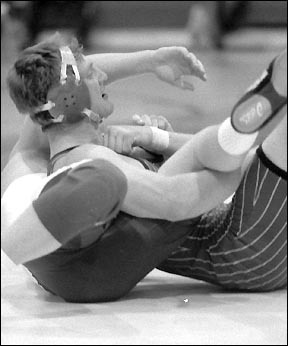 He credits his teammates and coaches for pushing him in practice, which has helped him attain his goals, such as winning an individual state title a year ago. So far this year, senior Ryan Glenz at 171, Engen at 189 and 215, junior Pat Utsch at 189 and 215, and senior Brad Person at 215 and 275 have amassed a combined record of 33-3, which is a point of pride for them, Engen said.
Engen lives with his grandparents, Marlin and Janet, on a dairy farm about three miles northeast of Brooten. He has one sister and four half-sisters. His father, Cory, lives in Browerville, and his mother, Dawn, lives in Litchfield.
He has never trained by lifting weights. He gained his strength the old-fashioned way: with hard work on the farm. "We throw a lot of bales (of hay) and pitch a lot of manure," he explained. "We're the old-style farm."
Good, humble, and hard working are the words coach Virg Vagle uses to describe Engen, both on and off the wrestling mat. "He doesn't try to wrestle in a flashy way," Vagle explained. "That's not his style. He's a good, humble, hard-working kid."
Engen, an honor roll student, was elected by his teammates to be a captain of the wrestling team this year and was elected by the student body to be homecoming king this fall. "He's very well accepted by his teammates and the student body, there's no question," said Vagle.
If Engen keeps healthy and keeps winning, he has a chance to finish in the top ten among Bulldogs for career victories. He also could become the second wrestler to earn back-to-back state titles. He is currently rated first in the state in his weight class.
Engen is being recruited to wrestle by Augsburg College, but he is unsure if he wants to attend college, if he wants to wrestle collegiately, if he wants to attend technical college, or if he wants to work next year.
---
Contact the author at editor@paynesvillepress.com • Return to Sports
Home | Marketplace | Community
---