River Lakes girls overpower Litch/DC 8-0
This article submitted by Courtney Karsch on 12/22/98.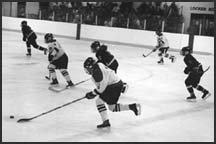 Now, what do you think of when you hear ďRiver Lakes Stars Girls Hockey Team?Ē If people know them well they might think, ďA good team that has a lot going for them.Ē This is definitely true. After Friday night they have an excellent 10-1 record. They are still working really hard and are having lots of fun at the same time.

On Friday, Dec. 18, at the River Lakes Arena, the Stars played Litchfield/Das-sel/ Cokato and defeated them 8-0. The Stars knew how the LDC team played and what their record was so they were going to go out on the ice and have fun, yet still work hard.

The first period was a great one for the girls. Their adrenaline was pumping and they were doing great. They scored five goals in the first period. The goalie for the Stars, Shari Vogt, was called with the first penalty of the game, which was interference. The other penalties that were called were, Missy Sieben, called with tripping and Courtney Karsch called with a high stick.

Because of the great lead, the Stars got to have all of their players play in this game which was really nice.

The second period wasnít as exciting. The Stars only scored one goal in this period which was by Karsch. The LDC team still couldnít get a goal by Vogt. The one and only penalty called in this period was by Kari Turkowski.

In the third period, the Stars were still having fun and passing beautifully. Even though they were ahead by so much the Stars played great, had good passes and played their positions. This ended the game with a fun and big victory for the Stars.

The Stars have a break for awile because of the holidays. They play next in the Holiday Cup, in Blaine on Dec. 28-30.
---