Spanier returns to college basketball court
This article submitted by Michael Jacobson on 12/22/99.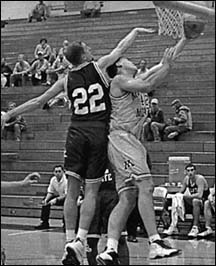 Tory Spanier is a 6' 5" junior wing on the men's basketball team at the University of Minnesota-Morris this winter. Spanier, the son of Dave and Geri Spanier of Paynesville, was a medical redshirt last season. (Academically, he is a senior majoring in statistics.)

Spanier is pictured here wheeling inside during the Cougars' 101-98 victory over Valley City State University. Photo from the Morris Tribune.)

His coach, Jim Severson, said Spanier started the season a little rusty from the year off. After scoring 24 points, grabbing eight rebounds, and passing for six assists in a 79-77 overtime loss to the University of Mary on Sunday, Spanier said he was playing better. "That's the best game he's ever played in college," said his father.

Until then, Spanier's high this season was 18 points and seven rebounds in a game against St. Cloud State University. Severson hopes those type of numbers become typical for Spanier, a captain of the team this year. "We count on him to be a leader on and off the court," said Severson. "He's got to score, rebound, pretty much everything for us."

The Cougars are 1-7 on the season, partly due to a difficult schedule that has seen them play three Division II Top 20 opponents and only two home games. "I don't think we realized what sort of schedule we would face," said Spanier, who noted that the Cougars have split the two games they have played this season against fellow nonscholarship schools.

The Cougars will be traveling to Florida after Christmas for a tournament. They have home games on Sunday, Jan. 2, against the University of Minnesota-Crookston, and on Monday, Jan. 3, against Moorhead State University.
---