Stars lose twice in Paynesville
This article submitted by Chris Jacobson on 12/22/99.
The Stars had two games this past week, against Mora on Tuesday, Dec. 14, and against Marshall on Saturday. Both games were played at the Koronis Civic Arena in Paynesville.

The first game against Mora was a very exciting, action-packed game. Every time a goal was scored the other team would match it. Although the game was very exciting, the Stars lost in the end, 7-5.

In the first period, the Stars scored first with a goal from Darren Stomes 7:36 into the first period. That was the only goal scored in that period, by either team.

In the second period, both teams were going at each other, and the scoring went three for Mora and one for the Stars, scored by Chris Jacobson on an assist by Mike Stang, making the score 3-2, in favor of Mora.

The third period was where most of the scoring took place. It was a fast-paced, thrilling final period. Both teams gave what they had, but, in the end, it wasn't enough for the Stars. Mora scored four times compared to three times for the Stars. Scoring for River Lakes were Mike Heinen, Eric Hartfiel, and Eric Habben.

The final score 7-5.

The Stars had 24 shots on goal. Adam Hartfiel made 27 saves for River Lakes.
| | | | | |
| --- | --- | --- | --- | --- |
| Mora-- | 0 | 3 | 4 | - 7 |
| River Lakes-- | 1 | 1 | 3 | - 5 |
Marshall 8
River Lakes 1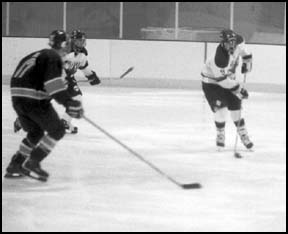 The second game was played Saturday night in Paynesville against Marshall. It was not a great game for the Stars. The only period that went well for the Stars was the first period. The rest of the game was not as good.
The Stars skated and played well in the first period, and took the lead on a goal from the point by Eric Hartfiel(pictured at left when he scored the only goal against Marshall on Saturday) five minutes into the game. Marshall answered later in the period to tie the score 1-1.
It went downhill from there. Marshall scord three goals within a few minutes of the start of the second period and had five total in the period. Marshall added two more in the third to make the final score 8-1, in favor of Marshall.
The Stars had 27 shots on goal but could get just one past the Marshall goaline. Adam Hartfiel made 24 saves for River Lakes.
| | | | | |
| --- | --- | --- | --- | --- |
| Marshall-- | 1 | 5 | 2 | - 8 |
| River Lakes-- | 1 | 0 | 0 | - 1 |
---