The New London-Spicer Wildcats, a preseason favorite in the West Central Conference North, defeated the Bulldogs wrestling team 37-16 in New London on Tuesday, Dec. 12.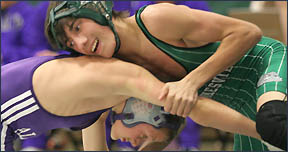 The Wildcats, who lost to the Dogs 29-25 last year before beating the Dogs at the conference tourney, built leads of 19-3, 25-6, and 37-10 in the victory, winning 9 of 14 weights.
The Dogs scored only one bonus point in the match. Sophomore Jon Kerzman earned that with a major decision at 152.
Ninth grader Dustin Sieben - shown wrestling against Albany - won a 5-2 decision at 103 against NL-S last week to give the Dogs their only lead.
Trailing 25-10 with five weights to go, the Dogs could have pinned out to win, but NL-S won the next three matches to take a 37-10 lead and seal the victory.
Four other Dogs won by decision for Paynesville: ninth grader Dustin Sieben at 103 (giving the Dogs their only lead of the night); eighth grader Tyler Hemmesch at 140; junior Cory Spanier at 215 (running his unbeaten streak to four matches); and ninth grader Eric Wolbeck at 275.
The Dogs' last match before the Christmas break will be Thursday when they host defending conference champion Minnewaska at PAHS.
NL-S 37, Paynesville 16
103-Dustin Sieben (P) dec. Justin Hennes, 5-2; 112-Chad Henle (NL-S) tech. falled Matt Doom, 18-2; 119-Shawn Hatlestad (NL-S) dec. Jeff Albright, 10-6; 125-Luke Reiter (NL-S) dec. Jordan Christian, 1-0; 130-Billy Dean (NL-S) tech. falled Hayden Spaeth, 16-0; 135-Brandon Keller (NL-S) dec. Justin Wendlandt, 5-1; 140-Tyler Hemmesch (P) dec. Cody Haugen, 7-2; 145-Adam Luberts (NL-S) pinned Dillin Christinsen, 1:10; 152-Jon Kerzman (P) maj. dec. Chris DeLong, 14-6; 160-John Nething (NL-S) dec. Ryan Gale, 9-6; 171-Levi Schultz (NL-S) dec. Andrew Moser, 10-3; 189-Andrew Blomker (NL-S) pinned Brad Torborg, 5:43; 215-Cory Spanier (P) dec. Ryan Clark, 14-12; 275-Eric Wolbeck (P) dec. Zach Borka, 6-4.
---
Contact the author at editor@paynesvillepress.com • Return to Sports
Home | Marketplace | Community
---