Last-second basket lifts LPGE over Dogs
This article submitted by Sara Lieser on 12/20/00.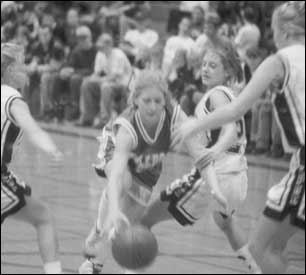 A rebound basket with three seconds left spoiled the Bulldogs' home debut and lifted the Long Prairie-Grey Eagle Thunder to 42-40 conference victory.

After four away games, the Bulldogs were really excited to finally play on their home court on Thursday. The girls wanted to show everyone what they were really about.

They did just that as they jumped to a 10-6 lead after the first quarter.

During the second quarter the Dogs let up a bit, but still led 22-19 at halftime.

The girls played one of the best third quarters of the season, outscoring the Thunder 13 to 8.

But the fourth quarter was a rough one. The Thunder tied the score and got possession of the ball for a final shot. The first Thunder shot, a driving lay-up, missed, but the rebound went right to a Thunder post player who made the winning shot.

The Dogs once again banged the boards, as they pulled down 30 rebounds. They also shot well from the free throw line.

Their biggest struggle was shooting, making only 16 of 41 shots from the field. The loss dropped the Bulldogs record to 1-5 overall and 0-1 in the West Central Conference North.

Steph Krupke (pictured) again led the team in scoring with 13 points. Crystal Humbert was close behind with 10 points. Humbert and Heidi Jansen each grabbed eight rebounds.

Krupke also led the team with six assists, and Stacy Lieser had five.

The Bulldogs played yesterday at Melrose.

They will host their holiday tourna-ment starting tomorrow. Maple Lake plays Big Lake at 6 p.m., and the Bulldogs play Howard Lake-Waverly at 7:45 p.m. The junior varsity plays at the same times in the middle school gym.

Losing teams will play for third place at 6 p.m. on Friday and winning teams will play at 7:45 p.m. for the championship.
| | | | | | |
| --- | --- | --- | --- | --- | --- |
| LPGE-- | 6 | 13 | 8 | 15 | - 42 |
| Paynesville-- | 10 | 12 | 13 | 5 | - 40 |
Annandale 60
Paynesville 46
On Tuesday, Dec. 12, the Dogs traveled to Annandale to face the Cardinals in a nonconference matchup.
The Dogs started out strong, scoring 15 points in the first quarter, and giving up 15 points. The second quarter the girls played even better, outscoring the Cardinals 16-12 to take a 31-27 halftime lead.
The second half didn't turn out the same as the first. The Cardinals outscored the Dogs in the second half by 18 points. The Cardinals' height advantage hurt the Bulldogs greatly.
Steph Krupke shot 100 percent from the field as she made all seven of the shots she took. She led the team with 15 points.
The Bulldogs shot 69 percent from the field, but only 50 percent from the free throw line.
Stacy Lieser added 13 points and led the team with five assists.
| | | | | | |
| --- | --- | --- | --- | --- | --- |
| Paynesville-- | 15 | 16 | 11 | 4 | - 46 |
| Annandale-- | 15 | 12 | 18 | 15 | - 60 |
---