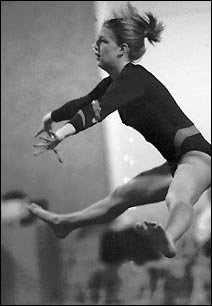 The Bulldogs gymnastics team put up a tough fight against New London-Spicer on Thursday, but the Wildcats ended up outscoring Paynesville 129.05-117.05.

On the vault, only senior Amy Mueller was able to place for the Bulldogs. She earned fourth place.

Ashley Karger leaps during her floor rountine against NL-S on Thursday.

The Bulldogs did best against the Wildcats on the uneven bars. Junior Mandy Mayer placed fifth, senior Rachel Koehn placed fourth, and eighth grader Kacy Nehowig placed third. The Dogs' final bar score was 28.1.

Koehn also placed on the balance beam, receiving fifth place. Mueller also placed on the balance beam, taking third.

Mueller placed fifth on the floor exercise. And Koehn tied for third.

In the all-around competition, Mueller placed fifth and Nehowig placed fourth.

The gymnastics team competed at Kimball on Tuesday. They will host Long Prairie-Grey Eagle on Thursday at the Lake Koronis Assembly Grounds with the junior varsity starting at 6:30 p.m.

New London-Spicer 129.05 Paynesville 117.05

Vault: Mandy Mayer 7.5; Kacy Nehowig 7.85; Tessa Miller 7.9; Amy Mueller (4) 8.25; TOTAL 31.5.
Uneven bars: Miller 5.55; Mayer (5) 7.3; Rachel Koehn (4) 7.4; Nehowig (3) 7.85; TOTAL 28.1.
Balance beam: Mayer 6.75; Nehowig 6.85; Koehn (5) 7.65; Mueller (3) 7.9; TOTAL 29.15.
Floor: Miller 6.0; Nehowig 7.15; Mueller (5) 7.25; Koehn (3) 7.9; TOTAL 28.3.
All around: Miller 26.00; Mueller (5) 28.85; Nehowig (4) 29.7.
---
Contact the author at paypress@lkdllink.net • Return to Sports
Home | Marketplace | Community
---