The Paynesville Bulldogs gymnastics team traveled to Long Prairie-Grey Eagle last Thursday night and had their highest score of the season.

The Dogs looked a little out of it during warm-ups so coach Deb Nehowig and coach Julie Doom gave the girls a little pep talk. When it came time for competition the girls looked a lot more focused and it showed in their score.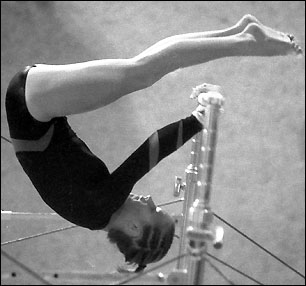 The Bulldogs continue to improve. They scored 117.30, which is their highest score yet this year, although they still lost. The Thunder came on strong, scoring 123.50 to win.
Coach Nehowig said, "I told the girls I wanted to hit 115 for a team score, so hitting 117 was a great accomplishment, especially so early in the season."
Eighth grader Kacy Nehowig set a new school record on the uneven bars last week, scoring 8.8 for her routine against LPGE. That broke the school mark by Tina Lieser in 1989 at 8.55.
The team's goal of scoring 120 is not too far off anymore.
Eighth grader Kacy Nehowig had a great night. She broke the school record on bars dating back to 1989. Tina Lieser previously held the record with 8.55. Nehowig scored an 8.8. Nehowig placed second on bars, even with such a great score. She was also second on the balance beam. She placed third on floor, missing second place by just five hundreths of a point. On vault Nehowig was third with an 8.4.
With all those eights, Nehowig was able to place first in the all-around competition. She beat the Thunders' Kristen Blake, who was second by three tenths of a point.
Senior Tessa Miller had a solid night on all four events. She was just 0.10 away from her personal best all-around score. Coach Nehowig said Miller will break 30 sometime this season. Miller was fifth on floor and fifth in the all-around competition.
Sophomore Ashley Karger was able to place fifth on the vault, having great after-flight on her first vault. She also got sixth in the all-around competition.
Senior Mandy Mayer was a consistent competitor for the Bulldogs again. She was the second highest scorer for the team on both bars and beam. Mayer was fifth on bars with a 7.0.
This week, the Bulldogs traveled to New London-Spicer on Tuesday. They will host Kimball and Litchfield for a triangular meet on Thursday, starting at 6:30 p.m., at the gymnasium at the Lake Koronis Assembly Grounds.
| | |
| --- | --- |
| Paynesville-- | 117.3 |
| LPGE-- | 123.5 |
Individual Results
Uneven bars: Ashley Karger 6.2; Tessa Miller 6.75; Mandy Mayer (5) 7.0; Kacy Nehowig (2) 8.8; TOTAL: Pay - 28.75; LPGE- 28.35;
Balance beam: Karger 6.25; Miller 6.6; Mayer 6.85; Nehowig (2) 7.55; TOTAL: Pay - 27.25; LPGE - 29.45;
Vault: Mayer 7.7; Miller 7.9; Karger (5) 8.0; Nehowig (3) 8.4; TOTAL: Pay - 32.0; LPGE - 33.45;
Floor: Ashley Spanier 6.4; Karger 7.0; Miller (5) 7.75; Nehowig (3) 8.15; TOTAL: Pay - 29.3; LPGE - 32.25;
All around: Karger 27.45; Miller (5) 29.00; Nehowig (1) 32.90.
---
Contact the author at editor@paynesvillepress.com • Return to Sports
Home | Marketplace | Community
---