The River Lakes Stars boys' hockey team overwhelmed winless Monticello on Saturday, winning 6-0 in a game played at Buffalo.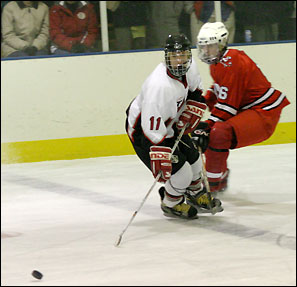 The Stars controlled play and outshot Monticello 47-7.
Senior forward Nick Plumhoff opened the scoring with a goal six minutes into the game. Then the Stars scored three times in the second period. Senior forward Chris Knauss, senior center Mike Anderson, and junior forward James Herberg scored for the Stars in the second period.
Junior forward Ryan Weber (11) scored two goals against Willmar last week, but the Stars lost their first game of the season, 3-2.
In the third period, Anderson and Knauss scored again for the Stars, who raised their season record to 4-1. The Stars finished last season with five wins total.
Knauss tallied two goals and an assist to lead the scoring for the Stars. Anderson added two goals. Herberg had a goal and an assist, and junior forward Andy Schramel had two assists.
This week, the Stars played at Sartell on Tuesday. They will play at Bagley on Saturday at 2 p.m.
| | | | | |
| --- | --- | --- | --- | --- |
| River Lakes-- | 1 | 3 | 2 | - 6 |
| Monticello-- | 0 | 0 | 0 | - 0 |
Scoring Summary
First Period: RL-Nick Plumhoff (Chris Knauss);
Second Period: RL-Knauss (Nick Dahlen); RL-Mike Anderson (Calvin Doll); RL-James Herberg (Anderson, Andy Schramel);
Third Period: RL-Anderson (Herberg, Schramel); RL-Knauss (Mark Peterson, Kevin Braun).
Willmar 3, River Lakes 2
The Stars suffered their first loss of the season, falling to Willmar 3-2 on Thursday night before a packed house at the Koronis Civic Arena in Paynesville Township.
River Lakes led through most of the first two periods. The Stars took an early lead when junior Ryan Weber scored with about a minute and a half into the first period.
Willmar tied the score at 1-1 two minutes into the second period, but the Stars regained the lead three minutes later. Weber scored again, this time on a power play, as the Stars converted a cross checking penalty into a power-play goal.
Ten minutes later, Willmar scored on a power play to tie the game at 2-2.
Willmar scored again two minutes into the third period, tallying the winning goal. They made that goal stand up by holding the Stars scoreless for the last 15 minutes of the game, including killing two penalties.
The Stars killed a penalty and generated some scoring chances over the last two minutes of the game and did not score despite pulling their goalie for the last 40 seconds of the game.
Weber scored both goals for the Stars, assisted both times by junior wing Nick Dahlen. Sophomore defenseman Zach Johnson also recorded an assist.
Senior goalie Blake Theisen made 32 saves for the Stars.
Both teams had nine penalties for 26 minutes. Willmar outshot the Stars slightly, 35-29.
| | | | | |
| --- | --- | --- | --- | --- |
| Willmar-- | 0 | 2 | 1 | - 3 |
| River Lakes-- | 1 | 1 | 0 | - 2 |
Scoring Summary
First Period: RL-Ryan Weber (Chris Knauss, Nick Dahlen);
Second Period: W-Benjamin Darval (Cass Wierschern); RL-Weber (Zach Johnson, Dahlen); W-Tyler Wahl (Wierschern);
Third Period: W-Matthew Johnson (Eric Kleven).
River Lakes 3, STMA 1
The River Lakes Stars beat St. Michael-Albertville 3-1 on Tuesday, Dec. 9, to start their season 3-0.
Senior center Mike Anderson staked the Stars to a lead by scoring with four minutes left in the first period and again midway through the second period. Anderson's first-period goal was assisted by freshman forward Alex Naujokas and by freshman defenseman Blake Williamson. He scored unassisted in the second period.
St. Michael-Albertville cut the Stars' lead to 2-1 with a shorthanded goal with six minutes to play in the third period, but junior defenseman Mike Mueller scored with a minute to play - assisted by junior forward Andy Schramel - to seal the victory for River Lakes.
Senior goalie Blake Theisen made 27 saves for the Stars.
Coach Jeff Boonstra said the team responded well to playing their first road game of the season but can improve their reactions to pressure situations.
| | | | | |
| --- | --- | --- | --- | --- |
| River Lakes-- | 1 | 1 | 1 | - 3 |
| STMA-- | 0 | 0 | 1 | - 1 |
Scoring Summary
First Period: RL-Mike Anderson (Alex Naujokas, Blake Williamson);
Second Period: RL-Anderson;
Third Period: STMA-Jared Besserud; RL-Mike Mueller (Andy Schramel).
---
Contact the author at editor@paynesvillepress.com • Return to Sports
Home | Marketplace | Community
---