Gymnasts suffer two defeats last week
This article submitted by Jenni Mayer on 12/15/98.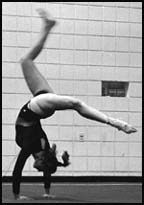 On Tuesday, Dec. 8, the Paynesville gymnasts competed against Annandale. They suffered their first loss of the season 125.6-122.25.

The only gymnast placing on vault for the varsity team was Kelli Fenske earning fifth place with a score of 8.45. The other gymnasts had nice vaults, but didnít score in the top five.

The Bulldogs had a good night on bars. Krysta Larson placed fifth with a score of 7.2. Coming in fourth was Joy Hemmesch with a 7.35. Earning second place on the bars was Camille Flanders with a 7.7. All the gymnasts had good looking routines.
The gymnasts then moved to the beam where they all had no-fall routines. Paynesville took three out of five places. Earning second was Krysta Larson with an 8.0. Camille Flanders was right behind in third place with a 7.5. Coming in fifth was Jen Moser, shown here in her floor routine, tying with an Annandale gymnast scoring a 7.15.
Then it was off to floor for Paynesville. All of the gymnasts did well, but only three placed in the top five. Earning third was Joy Hemmesch with an 8.15. Tying for fourth with an Annandale gymnast was Krysta Larson with a 7.9. Coming in fifth with a score of 7.6 was Rachel Koehn.

In the all-around competition, Joy Hemmesch took fourth place with a score of 30.5. Placing second was Krysta Larson with a 32.0.

Paynesville: 122.25
Annandale: 125.6
Melrose
The gymnasts traveled to Melrose on Thursday, Dec. 10.
Melrose is a strong team and their strong score showed just how good they are.
Paynesville scored the same, but it wasnít big enough to defeat Melrose.
Paynesville: 122.85
Melrose: 136.50
---