Albany steals a game from Lady Bulldogs
This article submitted by Cameron Mahlum on 12/15/98.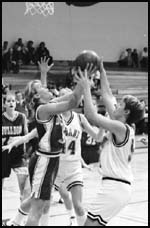 Conference foes clashed in Paynesville last Tuesday, Dec. 8. The pattern of close games continued as the Albany Huskies nipped the Lady Bulldogs 51-50.

Paynesville jumped out to an early 13-7 lead and would sustain this for the vast majority of the game. In fact, Paynesville never trailed until the final 23 seconds.

Posting a halftime lead of 25-17, the Lady Bulldogs seemed to be in control of the game. Offensively, Albany was stymied for the first three quarters. Paynesvilleís defense, as well as a cool night shooting by Albany, figured to be the path of success for the Lady Bulldogs.

Once again freethrow shooting would determine the outcome. Nursing a four-point lead with less than a minute left, the inability to hit free throws allowed Albany to escape victorious. Down the stretch Paynesville made 2 of 8 attempts, while the Huskies nailed 10 of their 11 attempts.

Albany would wake-up in the fourth quarter. They scored 20 points as Paynesville could only manage 10 points.

Unfortunately, the final few minutes overshadowed a very strong effort by the Lady Bulldogs. Paynesville shot 49 percent from the field, and only committed 14 turnovers. Clearly one of our best performances of the year.

Senior Amber Michaelis played a very solid all-around game as she tallied 18 points, six rebounds, six assists, and three steals. Sophomore Jaime Wuertz, shown in picture, once again led the Bulldogs in rebounds, as she grabbed eight.

Albany: 7 10 14 20 - 51
Paynesville: 13 12 15 10 - 50

Holiday Tournament
The Lady Bulldogs will begin their holiday tournament tomorrow night, Dec. 17, as they travel to St. Michael-Albertvville to play Maple Lake.

Friday night they will battle St. Michael-Albertville at Maple Lake, and on Saturday night, Dec. 19, they will play Big Lake at St. Michael-Alvertville. All games start at 6 p.m.
---