Gymnasts edged by Annandale
This article submitted by Jenni Mayer on 12/15/99.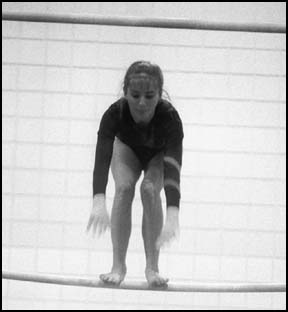 On Tuesday, Dec. 7, the Paynesville gymnastics team traveled to Annandale for their second meet of the season. The scores were close but Paynesville lost 120.7-116.35.

The Bulldogs started the night on the uneven bars. Krysta Larson placed fifth with a score of 6.95. Earning fourth place was Joy Hemmesch with a 7.45. The total score on bars for the Bulldogs was a 28.05.

Michelle Wolbeck, at right, scored a 6.85 for her routine on the uneven bars against Annandale-Maple Lake.

The next event for Paynesville was the vault competition. Kelli Fenske had a nice half-half vault putting her in fifth place with a 7.75. Earning fourth place was Jenni Mayer with a 7.85 for a handspring-half vault. Vaulting into second place with another half-half was Joy Hemmesch at 8.4. The team scored a total of 31.6 compared to Annandale's 32.2 on vault.

The Bulldog gymnasts then moved to the floor exercise. Krysta Larson and Joy Hemmesch tied for third both earning a 7.7. The rest of the competitors from Paynesville didn't place but had nice routines nonetheless. The total floor score for Paynesville was a 29.05.

The last event of the night for the Bulldogs was the beam competition. All of the girls had very nice routines but only two placed. Joy Hemmesch earned a 7.0 and fifth place on beam. Tying for first was Krysta Larson with a 7.4. The girls' total score was a 27.65.

In the all-around competition, Joy Hemmesch placed third with a 30.55 for the evening.

Coach Deb Nehowig commented,"I thought the girls performed better than their first meet. My goal is to break 120 points by Christmas."
| | | | | | |
| --- | --- | --- | --- | --- | --- |
| Paynesville-- | 116.35 | | | | |
| Annandale-- | 120.7 | | | | |
Melrose 136.65
Paynesville 114.95
On Thursday, the Paynesville gymnasts faced Melrose in competition at home. The Bulldogs were defeated 114.95-136.65.
The Bulldogs had good routines and nice scores but couldn't outperform the highly ranked Dutchmen. Top five placings for the Bulldogs were few due to the depth of the Melrose team.
Placing for Paynesville on vault with an 8.2 and fifth place was Joy Hemmesch. The final scores on the vault were Paynesville 32.05 and Melrose 35.35.
Hemmesch also placed fifth in floor with an 8.05.
Hemmesch and Krysta Larson placed in the all-around competition. Larson scored a 28.6 for fourth place. Hemmesch earned third place with a 30.8.
---