The Bulldogs were beaten by Prairie Centre (Sauk Centre/LPGE) in their first gymnastics meet on Tuesday, Dec. 6, 119.05-107.65.

Ninth grader Anna Kotten led the Dogs by placing in all four events and taking second in the all around. Kotten was second on the bars, third on the vault and on the floor, and fourth on the beam. She earned 16 points in the conference standings (used to determine the All Conference team).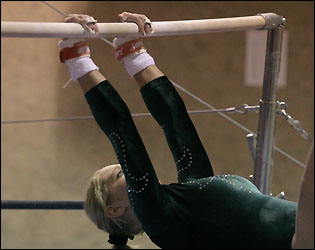 Kotten had a good start to her season by breaking 30 in the all around, said coach Deb Nehowig. Last year, Kotten averaged 30.6 in the all around, and she bested that with 30.65 last week.
Sophomore Brittney Spanier topped seven on the uneven bars for the second time in her career, scoring 7.15 last week and placing fourth.
Senior Kayla Nelson placed second for the Dogs on the balance beam and fifth on the floor.
Sophomore Brittney Spanier broke 7 on the bars for the second time in her career (last year at sections was her first) and placed fourth with a score of 7.15.
Seventh grader Megan Wuertz - in her first varsity meet - placed fifth on the vault with a score of 8.0. Wuertz and seventh grader Caitlyn Gottwald did an outstanding job in their first varsity meet, according to Nehowig.
Prairie Centre defeated the Dogs on each apparatus and easily won the team score. The Dogs' best event was the vault, where they scored 31.95.
"There is a lot of room for improvement yet, especially on floor and bars," said Nehowig. "We need to increase our level of difficulty on floor and get a couple more girls doing kips on bars, which will also add to the difficulty of their routine."
This week, the Dogs had another conference meet at Benson on Tuesday. This weekend, the Dogs will travel to St. James for a meet on Friday night and a varsity-only invitational on Saturday.
| | |
| --- | --- |
| Prairie Centre-- | 119.05 |
| Paynesville-- | 107.65 |
Individual Results
Vault: Anna Kotten (3) 8.45; Megan Wuertz (5) 8.0; Cassey Lund 7.85; Brittney Spanier 7.65; Caitlyn Gottwald 7.5; TOTAL: Pay - 31.95; PC - 33.2;
Uneven bars: Kotten (2) 7.75; Spanier (4) 7.15; Wuertz 4.25; Celia Frieler 3.95; TOTAL: Pay - 23.1; PC - 27.6;
Balance beam: Kayla Nelson (2) 7.35; Kotten (4) 6.5; Frieler 5.9; Spanier 5.3; Gottwald 4.8; TOTAL: Pay - 25.05; PC - 27.5;
Floor: Kotten (3) 7.95; Nelson (5) 7.25; Lund 6.6; Frieler 5.75; Spanier 4.75; TOTAL: Pay - 27.55; PC - 30.75;
All around: Kotten (2) 30.65; Spanier 24.85.
---
Contact the author at editor@paynesvillepress.com • Return to Sports
Home | Marketplace | Community
---