Bulldogs rally to stick the Dragons
This article submitted by Michael Jacobson on 12/13/00.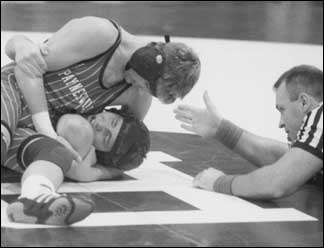 Ryan Glenz (pictured at left pinning his opponent) and Jason Leyendecker delivered pins in the final two matches to lift the Bulldogs to a 31-28 conference victory against Litchfield Thursday.

The visiting Dragons, one of the top teams in the West Central Conference North, jumped to leads of 15-0 and 21-6.

Litchfield still led 28-19 with two matches to go, but Paynesville got pins from both Glenz and Leyendecker for a come-from-behind victory.

Glenz, a sophomore, got his pin early in the second period to move the Bulldogs within three at 28-25. Then Leyendecker, a junior, needed just a half minute to stick the Litchfield heavy-weight to give Paynesville a key conference win.

"We didn't wrestle as well as I expected in the bottom half, but fortunately we came through in the upper half, winning five of the last seven matches," said head coach Virg Vagle.

Paynesville won only six individual matches while the Dragons won seven. But the Bulldogs got enough bonus points with four pins and a major decision to overcome the Dragons' extra win. The Dragons won four decisions, and had only two pins and one major decision.

After losing the first three matches and trailing 15-0, Jeremy Sogge scored Paynesville's first team points with a first-period pin at 125.

Litchfield won two more decisions to build a 21-6 advantage before Jeremy Fuchs and Joe Hiltner cut the lead to five. At 140, Fuchs got a third-period reversal to win an 11-3 major decision for four team points. At 145, Hiltner pinned his opponent in 26 seconds for six team points that made the score 21-16.

Litchfield junior Erik Flowers, a section champion last year, needed three third-period takedowns to beat Josh Schreifels 10-6 at 152. Their match was tied at four at the end of two periods.

At 160, Max Meagher got three team points back for Paynesville with a decision at 160. He used a cradle to earn three near-fall points in the second period and sealed the match with a third-period takedown.

At 171, Josh Kerzman contributed to the team victory even in individual defeat. He yielded just a major decision to set up Glenz's and Leyendecker's heroics. Earlier, at 112, Adam Christian got a late escape to avoid giving up a major and save a team point.

The closest match of the night was at 130, where the Dragons' Jake Ziegler edged the Bulldogs' Nathan Glenz 5-4. Ziegler scored two takedowns to lead 4-1 after the first period. Glenz tied the score at four with an escape and takedown in the second, but Ziegler escaped for a point in the third and Glenz couldn't get the takedown he needed to win the match.

The Dragons won the coin flip, allowing them to choose match-ups at five key weights. Vagle said this prevented the Bulldogs from using their to wrestlers (Hiltner and Sogge) against the Dragons' best.

Senior David Kerzman was unable to wrestle due to a rib injury.

The Bulldogs wrestled another key conference match against Albany yesterday. The match was at Albany, not home as listed in the Press last week.

The team's last match before the Christmas holiday is next Tuesday, Dec. 19, at Long Prairie-Grey Eagle.

Paynesville 31, Litchfield 28 103-Joe Schoolmeesters (L) pinned Sean Glenz, 1:41; 112-A.J. Werner (L) dec. Adam Christian, 11-4; 119-Matt Forster (L) pinned Pat Noonan, 3:00; 125-Jeremy Sogge (P) pinned Jared Piepenburg, 1:30; 130-Jake Ziegler (L) dec. Nathan Glenz, 5-4; 135-Joe Buschette (L) dec. Justin Reeck, 8-3; 140-Jeremy Fuchs (P) major dec. Ryan Rothstein, 11-3; 145-Joe Hiltner (P) pinned Bryar Johnson, 0:26; 152-Erik Flowers (L) dec. Josh Schreifels, 10-6; 160-Max Meagher (P) dec. Tyler Fortun, 7-3; 171-Jake Carr (L) major dec. Josh Kerzman, 11-2; 189-Ryan Glenz (P) pinned Luke Herzog, 2:26; HWT-Jason Leyendecker (P) pinned Dustin Skalberg, 0:30.
---