Gymnasts edge Sauk by a point
This article submitted by Amanda Mayer on 12/13/00.
On Thursday, the Paynesville gymnasts earned a victory over Sauk Centre. The Bulldogs had a great night, scoring a season-high 119.35 points.

They beat Sauk Centre, which totaled 118.15, by 1.2 points.

Paynesville got two places right away on the vault. Michelle Wolbeck placed third with an 8.3, and Kelli Fenske placed second with an 8.6.

On the uneven bars, Rachel Koehn placed fourth with a score of 7.35. Mandy Mayer placed third with a 7.65, her personal best. Wolbeck took second place with an 8.0, which is also her personal best.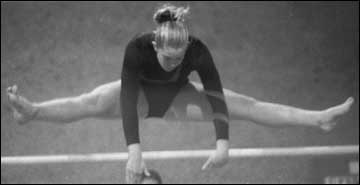 On the balance beam, Amy Mueller tied for fifth. She scored 6.85. Wolbeck took fourth place with a 6.9, and Koehn had a no-fall beam routine which earned her second place with a 7.35.
The last event of the night was the floor exercise where Fenske and Koehn tied for fourth with a 7.7. Wolbeck placed third with an 8.05. Mueller had a great routine to score 8.1 that put her in second place. This is Mueller's personal best on the floor exercise.
In the all-around competition Mueller placed fifth with a 27.6. This was her first time competing in the all-around at the varsity level. Koehn placed third with a 30.45, and Wolbeck placed second with her personal best of 31.25.
Coach Deb Nehowig commented, "I was very pleased with our team score. We were much tighter than the other night."
"Our top scorer, Joy Hemmesch (pictured above on the beam) was out with a sprained ankle. The girls really pulled it together and did a great job," Nehowig added.
Hemmesch, a team captain, said, "I loved the way the team pulled together for a victory. Everyone gave an extra 100 percent with an injured gymnast on the sideline."
The Mainstreeters, who the Bulldogs hadn't beaten in years, were without their top gymnast in senior Laura Blank, who won the all-around title and three individual events in Class A in 1999.
The Bulldogs' next meet is on Thursday at Benson. The junior varsity starts at 6:30 p.m.
The gymnasts will host Kimball on Tuesday, Dec. 19, at the Lake Koronis Assembly Grounds.
Paynesville - 119.35
Sauk Centre - 118.15
Annandale meet
The Paynesville gymnasts were defeated by Annandale at their first home meet on Tuesday, Dec. 5, by a score of 126.225-111.05.
The Bulldogs had strong vaults but only Kelli Fenske placed in the top five. She scored an 8.5 for fourth place.
On the uneven bars, once again the Bulldogs had great routines but only one place was taken. Joy Hemmesch scored a 7.3 for third place.
On the balance beam, Hemmesch tied for second place with a 7.45.
On the last event for Paynesville, the floor exercise, Annandale shut out the Bulldogs and nobody from Paynesville placed in the top five.
In the all-around competition, Rachel Koehn placed fifth with a 27.3 and Hemmesch placed fourth with a 30.05.
Paynesville - 111.05
Annandale - 126.225
---