Ex-Bulldog wins national football honor
This article submitted by Michael Jacobson on 12/13/00.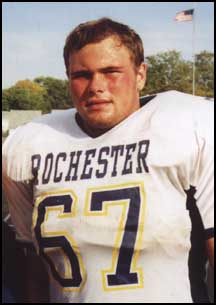 All the weight lifting Dustin Looman did last summer paid off this fall.

Looman's goal was to help his Rochester Community and Technical College (RCTC) football team contend for a national championship. He ended up anchoring the top-rated defense on the only undefeated junior college team in the nation.

Despite their undefeated record, the Yellowjackets finished second in the national polls.

Looman, however, earned top honors for his performance on the field. The sophomore defensive tackle from Paynesville was All Conference, All Region, and All-American this season.

Most prestigiously, Looman won the Joel Swisher Memorial Award as the top community college player in Minnesota and last week he was announced as the National Junior College Athletic Association (NJCAA) Defensive Player of the Year.

"Yeah, it's a pretty big award," said Dustin from Rochester in a phone interview. "I was really surprised."

Sixteen regions around the country each nominate a player for the award and a national committee selected Looman as this year's winner.

He is the first RCTC player to win a national player of the year award and, as far as his coach Chuck Siefert knows, the first from a Minnesota junior college.

In winning 12 games this fall, the Yellowjackets stuffed opposing offenses. They ranked first in the nation in rushing defense and total defense.

They allowed 258 yards rushing, an average of just 21 yards per game. Opponents rushed 440 times for that total, getting less than a yard per play on the ground.

In total defense, the Yellowjackets yielded only 152.2 yards per game, also first in the nation.

Looman is quick to point to these achievements as being team accomplishments. Two other Yellowjacket defenders were named to the All Region team this year. Three more earned All Conference honors this year in the Minnesota Community College Conference.

"I give all the credit to my teammates," said Looman.

"I never imagined I'd win this award," Looman told the Rochester Post-Bulletin. "I think I had a decent year. But I was so much better because of the guys I was surrounded by."

Siefert, in write-ups in the Post-Bulletin, praised Looman for his contribution to RCTC's defense. "Dustin has great quickness, a nose for the ball, and so much strength," his coach said. "He just tore up the middle of offenses."

The Yellowjackets posted two shutouts this year and held half of their opponents to a touchdown or less. For the year, they yielded 108 points, or nine per game.

The only team to score 20 points against RCTC was North Iowa Area Community College, which lost 23-20 in the Pepsi Cola/Sigler Printing Bowl in Cedar Falls, Iowa, on Nov. 19. At the time, North Iowa was rated fifth in the country, and Yellowjacket's win completed their undefeated season.

When the top-ranked team from Kansas lost in its bowl, RCTC had a case to move from #2 in the country to #1, but the poll left them at #2. Glendale (Ariz.) Community College and RCTC each got four first-place votes, but Glendale outpolled RCTC 143-137.

RCTC was the only undefeated school, but as a nonscholarship school they won the Division III title. They came within six poll points of winning the overall NJCAA title against scholarship schools.

Steve Flint, the son of Denis and Mary Flint of Richmond, also played for RCTC this fall. A 2000 graduate of PAHS, Flint was a reserve offensive lineman for the Yellowjackets as a freshman.

Linebacker playing D-line
Looman played middle linebacker for the Paynesville Bulldogs before graduating in 1999. He also was a high school standout in hockey and baseball.

He intended to play linebacker when he went to RCTC. The team, though, had plenty of linebackers, so Looman was moved to defensive tackle to get him on the field, Siefert said.

Looman earned a starting position three games into his freshman season last fall and helped RCTC to a 10-1 record. He played all 12 games this year, despite injuring his hand early in the year.

Now Looman admits that he isn't fast enough to play linebacker for RCTC, but he still says he's a linebacker playing on the D-line.

He has adjusted to, and likes, playing defensive tackle. "You're so close to the ball," he said. "I think you get to get a lot more hits."

RCTC doesn't keep individual defensive statistics, so exact counts on Looman's tackles or sacks are unavailable. He estimated that the Yellowjacket defense had 40 sacks this year, and he had 15 or so.

Last year, Looman was 30 pounds underweight for a defensive tackle, so he lifted weights at least every other night this summer to bulk up. Now he weighs 265 pounds and is waiting for an offer to play Division I football.

At least 10 universities have contacted him about playing for them next fall, including Minnesota, Iowa, Iowa St., and Oregon St. He plans on visiting schools in Colorado over his Christmas holiday.

Playing defensive tackle at that level would mean adding 20 more pounds, to which Looman is committed to doing. "I just want to play Division I football someplace," he said.

Actually, what he really wants is to play Division I football and baseball. After all, he hit .420 with six home runs for the RCTC baseball team last spring primarily as a designated hitter and earned All Conference honors in that sport, too.

"I like playing both," Looman explained, "and that's what some schools are talking about, but I'd probably choose football over baseball."

Traversing the state
His parents, Bruce and Nan Looman of Paynesville, have the winter free before they start following Dustin's collegiate career again in the spring. Bruce and Nan attended all his football games this fall, travelling around the state from Rochester to Ely to Iowa for the bowl game.

The closest opponent for RCTC is Ridgewater Community College in Willmar.

With only one game a week, always on Saturday, football is easier to follow than baseball, whose schedule frequently includes three games a week.

Bruce and Nan attended RCTC's football banquet in Rochester on Tuesday, Dec. 5. Driving home that night, with their son having won an elite award, they were gratified to see all their son's hard work pay off.

All the time and money they had spent in following and supporting his career paid off handsomely, too. "Every penny," said Bruce, "was worth it."
---