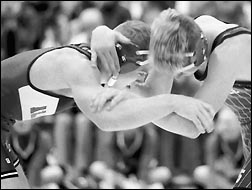 The Paynesville wrestling team dominated two conference foes last week to stay unbeaten for the season. The Bulldogs beat Long Prairie-Grey Eagle 59-9 and Albany 51-15 in a double dual at home on Tuesday, Dec. 4.

The Bulldogs won 20 individual matches while losing only six in the two matches combined. They are now 2-0 in the West Central Conference North and 5-0 overall.

High school matches will not always start at 103 and end at heavyweight this season, as has been the custom in the past. In a new rule, high school matches are now like collegiate ones, where the starting match is determined randomly each night. This reduces some of the pressure on the heavier weights, which always used to be the last ones to be decided and were seen as pivotal in close contests.

On Tuesday, both matches started at 119, meaning they went from 119 up to heavyweight and then the last two matches were at 103 and 112. Had the matches been close, the end-of-the-match pressure would have been on the lightest wrestlers.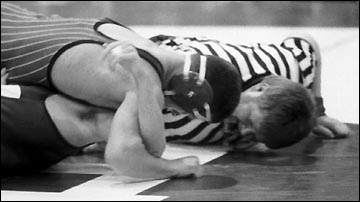 Against LPGE, the Bulldogs broke open a 4-3 lead with six straight pins from 130 to 160. Senior Jeremy Sogge started the run with a pin in 32 seconds. Junior Justin Reeck at 135, sophomore Matt Kerzman at 140, senior Josh Schreifels at 152, and junior Josh Kerzman at 160 all added first-period pins. Only senior Jeremy Fuchs (pictured at right) needed more time to get a pin; he pinned his opponent in 4:38.
Juniors Adam Christian at 125 and Ryan Glenz at 171 added major decisions. LPGE also forfeited the upper two weights.
The closest match was the last one at 112, where eighth grader Sean Glenz erased a 5-0 lead and won 6-5, his last points coming on a third-period reversal.
Against Albany, in the second match on Tuesday, the Dogs jumped out to a 21-0 lead and nearly had the match clinched after seven matches, by which time they led 33-3.
Noonan (119) and Sogge (135) had first-period pins for the Dogs in the early going, and Adam Christian added a decision at 125 and the Huskies forfeited at 130.
In two match-ups of seniors at 145 and 152, the Bulldogs not only swept, but got two pins. Fuchs (145) dominated his opponent, building a 13-4 lead, before pinning him in the second period. Schreifels (152) got his second pin of the night, a nice birthday present to himself.
The Dogs lost close matches at 160 and 171. Josh Kerzman just needed a reverse or an escape in the third period to win or tie before yielding late back points and losing 8-4. Ryan Glenz came within a take-down of forcing overtime with Albany's Adam Goeber, a state entrant last year.
The Paynesville fans were disappointed when Albany forfeited to Marty Engen at 189. Engen, a transfer from BBE, is 5-0 for the season, but both his wins on Tuesday were by forfeit. Schreifels and Sogge are also undefeated on the season for Paynesville at 5-0.
Eighth grader Andrew Christian and Sean Glenz finished the scoring for Paynesville with pins at 103 and 112. Christian got his first varsity victory with a second-period pin.
On Saturday, the Bulldogs travel to Minneapolis Edison for an eight-team tournament against: Austin, Benilde-St. Margaret's, Columbia Heights, Cooper, Minneapolis Edison, Nicollet, and Owatonna. Varsity matches are scheduled for 9 a.m., 11:30 a.m., and 3:30 p.m.
Paynesville 59, LPGE 9
119-Sam Schad (LPGE) dec. Pat Noonan, 13-6; 125-Adam Christian (P) maj. dec. Jake Zeis, 18-4; 130-Jeremy Sogge (P) pinned Alex Rasmussen, 0:32; 135-Justin Reeck (P) pinned Mike Meagher, 1:47; 140-Matt Kerzman (P) pinned Grant Schad, 1:51; 145-Jeremy Fuchs (P) pinned Pat Jenkins, 4:38; 152-Josh Schreifels (P) pinned Adam Pesta, 1:38; 160-Josh Kerzman (P) pinned Josh Pesta, 0:46; 171-Ryan Glenz (P) maj. dec. Scott Twardowski, 13-2; 189-Marty Engen (P) won by forfeit; HWT-Brad Person (P) won by forfeit; 103-Brad Twardowski (LPGE) pinned Andrew Christian, 1:49; 112-Sean Glenz (P) dec. Travis Pesta, 6-5.
Paynesville 51, Albany 15
119-Pat Noonan (P) pinned Adam Doll, 1:03; 125-Adam Christian (P) dec. Scott Schlangen, 9-3; 130-Jack Mueller won by forfeit; 135-Jeremy Sogge (P) pinned Kris Doll, 0:50; 140-Jake Zierden (A) dec. Justin Reeck, 5-0; 145-Jeremy Fuchs (P) pinned Chris Rothstein, 2:55; 152-Josh Schreifels (P) pinned Zach Zierden, 1:54; 160-Aaron Blackmore (A) dec. Josh Kerzman, 8-4; 171-Adam Goebel (A) dec. Ryan Glenz, 8-6; 189-Marty Engen (P) won by forfeit; HWT-Calvin Hennen (A) pinned Brad Person, 1:35; 103-Andrew Christian (P) pinned Brad Majeski, 3:06; 112-Sean Glenz (P) pinned Alex Plantenberg, 5:36.
---
Contact the author at paypress@lkdllink.net • Return to Sports
Home | Marketplace | Community
---