The Paynesville Bulldogs gymnastics team split two meets last week. For their first meet of the season, they traveled to Dassel-Cokato on Tuesday, Dec. 3.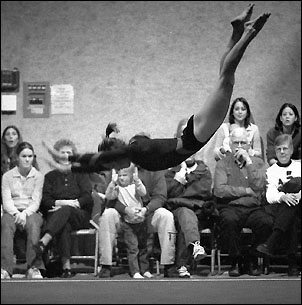 The girls had a tough meet and ended up losing, 118.4-109.3. The biggest problem was execution. The girls did not stay tight and maintain a hollow body position in every routine.
Eighth grader Kacy Nehowig leaps during her floor exercise routine against St. James at home on Friday. Nehowig won three events, including the floor exercise, and the all around against the Saints. Nehowig scored 8.0 in winning the floor, 8.15 in winning the uneven bars, and 8.7 in winning the vault.
Head coach Deb Nehowig said, "Too many tenths are taken away for bent legs, bent arms, and flexed toes."
The girls started out on the uneven bars where only eighth grader Kacy Nehowig was able to place. She placed first with a nice, flowing routine that earned her an 8.45.
In the vault competition, tenth grader Ashley Karger was able to place fourth. Nehowig also took first place with an 8.7. The vault was the only apparatus where the Bulldogs outscored D-C.
Warm-ups on the floor exercise went well, but when it came time for competition only one gymnast was able to place. Again it was Nehowig, who received third place.
The girls had first-meet jitters when it came time to go to the balance beam. Each routine was a bit shaky, and ninth grader Kayla Nelson was the only gymnast to have a no-fall routine. Once again, Nehowig was the only Paynesville gymnast to squeeze her way into placing. She got fourth place.
In the all-around competition senior Tessa Miller placed fifth. Karger received fourth place, and Nehowig placed second with a 31.15.
Coach Nehowig also mentioned that the Bulldogs have a lot of work left to do with their routines. Some of that work includes adding new skills and perfecting old skills.
The gymnasts traveled to New London-Spicer on Tuesday. They will have a meet at LPGE on Thursday, starting at 6:30 p.m.
| | |
| --- | --- |
| Paynesville-- | 109.3 |
| Dassel-Cokato-- | 118.4 |
Individual Results
Uneven bars: Tessa Miller 5.75; Ashley Karger 6.25; Mandy Mayer 6.5; Kacy Nehowig (1) 8.45; TOTAL: Pay - 26.95; DC - 28.9;
Vault: Ashley Spanier 7.65; Mayer 7.7; Karger (4) 7.8; Nehowig (1) 8.7; TOTAL: Pay - 31.85; DC - 31.4;
Floor: Miller 6.1; Spanier 6.3; Karger 6.4; Nehowig (3) 7.0; TOTAL: Pay - 25.8; DC - 28.75;
Balance beam: Kayla Nelson 5.8; Karger 6.15; Miller 6.7; Nehowig (4) 7.05; TOTAL: Pay - 25.7; DC - 29.35;
All around: Miller (5) 25.5; Karger (4) 26.75; Nehowig (2) 31.15.
Paynesville 114.7, St. James 93.15
The Bulldogs hosted their first home meet of the year on Friday. The gym was full of cheering high school spectators and other fans, which made for a comfortable atmosphere for the Bulldogs.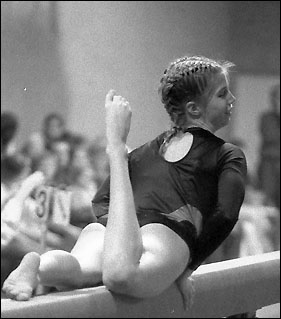 The Dogs pulled off their first win of the season over St. James by a score of 114.7-93.15, outscoring the visitors in all four events.
The Bulldogs scored five points higher than in their first meet, meaning improvement is already starting to show.
Senior Mandy Mayer had a no-fall routine and won the balance beam against St. James on Friday, scoring 7.1. She was also second on the uneven bars scoring 6.3.
On the vault, sophomore Ashley Karger placed fourth, senior Tessa Miller placed third, and eighth grader Kacy Nehowig placed first, scoring an 8.7.
On the uneven bars, the Bulldogs swiped four of the five places. Miller placed fourth, Karger placed third, senior Mandy Mayer placed second, and Nehowig swung into first place.
The girls took four of the five places on the balance beam also. Ninth grader Kayla Nelson, who is coming along quite well on beam in only her second varsity performance, placed fifth. Miller placed fourth, Karger was second, and Mayer had a no-fall routine that earned her first place. Coach Nehowig said that Mayer's first place was due to her high leaps and to her sticking her dismount.
On the floor exercise Karger placed fifth, losing a tiebreaker for fourth. Miller had a great routine that put her in second place, and Nehowig took first with an 8.0.
In the all-around competition Miller placed third, Karger - whose off-season training during the summer has helped her become a solid gymnast in every event - was second, and Nehowig, despite an off-night on the beam, finished first with a 30.25. "Kacy struggled on beam but managed to still win the all-around, getting eights in her other three events and earning firsts helped keep her (score) in the 30s," said coach Deb Nehowig.
| | |
| --- | --- |
| St. James-- | 93.15 |
| Paynesville-- | 114.7 |
Individual Results
Vault: Amanda Mayer 7.85; Ashley Karger (4) 8.1; Tessa Miller (3) 8.2; Kacy Nehowig (1) 8.7; TOTAL: Pay - 32.85; SJ - 30.45;
Uneven bars: Miller (4) 5.65; Karger (3) 6.2; Mayer (2) 6.3; Nehowig (1) 8.15; TOTAL: Pay - 26.3; SJ - 19.55;
Balance beam: Kayla Nelson (5) 6.1; Miller (4) 6.35; Karger (2) 6.85; Mayer (1) 7.1; TOTAL: Pay - 26.4; SJ - 22.8;
Floor: Maggie Frieler 6.7; Karger (5) 7.05; Miller (2) 7.4; Nehowig (1) 8.0; TOTAL: Pay - 29.15; SJ - 20.35;
All around: Miller (3) 27.6; Karger (2) 28.2; Nehowig (1) 30.25.
---
Contact the author at editor@paynesvillepress.com • Return to Sports
Home | Marketplace | Community
---