The River Lakes Stars boys' hockey team opened its season with back-to-back home wins last week at the Koronis Civic Arena.

The team, which finished 5-15-1 a year ago, beat Becker-Big Lake 6-2 in their opener on Tuesday, Dec. 2, and beat Litchfield/Dassel-Cokato 2-1 in overtime on Friday.

The Stars won their first-ever game against Litchfield/Dassel-Cokato, as freshman forward Alex Naujokas scored both goals for the Stars, including the game-winner 40 seconds into overtime.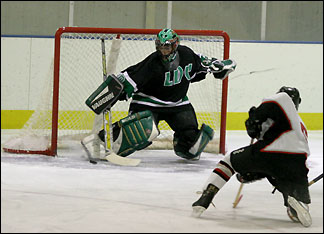 In overtime, Naujokas drew a penalty by the net and then scored four seconds later on the power play. Litchfield/Dassel-Cokato tried to neutralize the Stars' speed with their size and physical play, but they were called for ten penalties for 28 minutes, while the Stars had only three penalties for six minutes.
Naujokas also scored in the first period for the Stars, scoring seconds after another power play expired.
Freshman forward Alex Naujokas (6) had one side of the net to shoot into in scoring a power-play goal in overtime to lift the River Lakes Stars to a 2-1 victory over Litchfield/D-C on Friday at the Koronis Civic Arena.
Litchfield/Dassel-Cokato also scored their only goal on the power play in the second period, tying the game at 1-1.
With the game tied, the Stars had to kill another two penalties late in the third period. Senior goalie Blake Theisen made 47 saves for the Stars in net.
With the victory, the Stars - a cooperative program between Albany, Paynesville, New London-Spicer, Rocori, and St. John's Prep - are off to their best start in years. This year, the team has four players from the Paynesville area: junior defenseman Mike Mueller (who assisted on Naujokas' first goal), Naujokas, sophomore center Jamie Paul, and junior forward Ryan Weber, who lives in the Paynesville area but attends St. John's Prep.
Naujokas plays on the first line, Mueller plays in the top defense pair, amd Paul centers the second line, which includes Weber.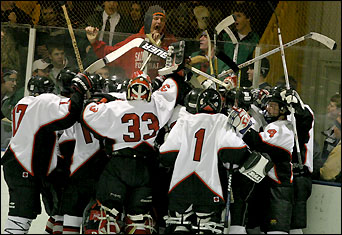 The new head coach for the Stars this year is Jeff Boonstra, a teacher and coach in the New London-Spicer School District. Assistant coaches are Barry Darvel, Mark Johnson, and John Olson.
River Lakes players celebrated in the corner of the rink at the Koronis Civic Arena on Friday night after beating Litchfield/D-C in overtime. It was the team's first-ever victory over Litchfield/D-C.
Boonstra said he was pleased with the team's intensity against Litchfield/D-C and the way the team played a clean but aggressive game against the Dragons.
The Stars will once again play in the Central Lakes Conference this year. They will host Willmar at the Koronis Civic Arena in Paynesville for their first conference game on Thursday. This week, they will also play Monticello at Buffalo on Saturday, and they will play at Sartell on Tuesday, Dec. 16.
| | | | | | |
| --- | --- | --- | --- | --- | --- |
| Litchfield/D-C-- | 0 | 1 | 0 | 0 | - 1 |
| River Lakes-- | 1 | 0 | 0 | 1 | - 2 |
Scoring Summary
First Period: RL-Alex Naujokas (Mike Mueller, Andy Schramel);
Second Period: L/DC-Eric Adams (Steve Belinsky);
Third Period: No scoring;
Overtime: RL-Naujokas (Mike Anderson).
River Lakes 6, Becker/Big Lake 2
The Stars peppered Becker/Big Lake with 59 shots and won their season opener 6-2 on Tuesday, Dec. 2 at the Koronis Civic Arena.
Junior forward Ryan Weber scored two goals and assisted on two others for the Stars. Weber opened the scoring with seven minutes left in the first period, and the Stars never trailed.
The Stars scored two goals in every period with junior forward Andy Schramel, junior forward Nick Dahlen, sophomore center Jamie Paul, and junior forward Bo Sjoberg also scoring for the Stars.
In addition to Weber, two other Stars had multipoint nights: Paul had a goal and an assist for the Stars, and sophomore defenseman Zach Johnson had two assists.
The Stars outshot Becker/Big Lake 59-15.
Boonstra said we was pleased with the team's forecheck and puck movement but emphasized that the team still had areas to improve.
| | | | | |
| --- | --- | --- | --- | --- |
| Becker/BL-- | 0 | 2 | 0 | - 2 |
| River Lakes-- | 2 | 2 | 2 | - 6 |
Scoring Summary Individual Results
First Period: RL-Ryan Weber (Chris Knauss, Mike Mueller); RL-Andy Schramel (Alex Naujokas, Mike Anderson);
Second Period: B/BL-Anthony Moores (Scott Albeck); RL-Weber (Anderson, Kevin Braun); RL-Jamie Paul (Weber, Zach Johnson); B/BL-Ross Johnson;
Third Period: RL-Nick Dahlen (Paul, Weber); RL-James Herberg (Bo Sjoberg, Zach Johnson).
---
Contact the author at editor@paynesvillepress.com • Return to Sports
Home | Marketplace | Community
---