The Bulldogs boys' basketball team lost eight seniors from last year's 6-17 team, including six of their top seven players, but they will have a senior-led lineup again this year, with eight seniors on the team.

The varsity this year - which opened its season on Tuesday with a game at Kimball - contains no juniors, with the rest of the team comprised by four sophomores and one freshman.

Returning to the starting lineup is senior forward Adam Kampsen, who led the team with 12.1 points and 8.9 rebounds per game last year. He will be joined in the starting lineup by three other seniors: posts Jordan Haag and Adam Hemmesch and guard Doug Mages. All four are captains for the team this year.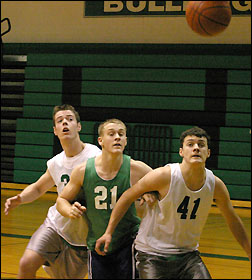 Also starting this year will be freshman forward Cory Nietfeld, a promising player who dunked last year as an eighth grader playing in a ninth grade game.
Keys to a successful season will be to develop balanced scoring, to play good defense, and to score transition points, said coach Phil Carlson, who returns for his second varsity season with the Bulldogs.
Seniors Jordan Haag, Adam Hemmesch, and Adam Ingaslbe - three of eight seniors on the boys' basketball team this winter - fight for a rebound during a preseason practice.
"We will actually start a fairly tall lineup," said Carlson. "Our starting lineup will have three 6' 3" players. Our average height will be about 6' 2"."
Carlson is also pleased with the team's attitude and work ethic, in the two weeks of preseason practice and during the off season. "We've got guys that are working in the summer. They're working in the weight room. They're doing what they need to do," said Carlson.
Expected top substitutes for the team this year, according to Carlson, will be senior Andrew Ainsley and sophomores Mark Andrie and Derek Stanger on the perimeter and senior Adam Ingalsbe and sophomore Aaron Braun inside. Other varsity players this year are senior Ross Jaeger, sophomore Trent Hansen, and senior Trever Stanger.
Coaching again this year are Ross Englestad, junior varsity, and Rick Houske, ninth grade. The team is also being helped by Andy Regnier, a student teacher who is serving as a volunteer coach.
How the team's improvement translates into wins is a big question mark, said Carlson, since the Bulldogs will again play in the tough West Central Conference North and will play some good teams in nonconference games.
The team was competitive at a preseason scrimmage at Sauk Centre, playing its entire roster against BBE, Holdingford, Osakis, Parkers Prairie, and Royalton.
"We hope for the best," Carlson said.
On Friday, the Bulldogs will host their first conference game against St. Cloud Cathedral, whom the Dogs beat twice last year. The Bulldogs will also host Sauk Centre on Tuesday, Dec. 16.
---
Contact the author at editor@paynesvillepress.com • Return to Sports
Home | Marketplace | Community
---