Stars beat Benson and Willmar
This article submitted by Courtney Karsch on 12/8/99.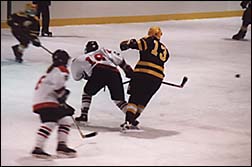 The River Lakes Stars girls hockey team had an excellent week with two big wins against Benson and Willmar.

The Stars played Benson in Paynesville on Tuesday, Nov. 30, and won 1-0. (Picture taken at game against Benson at the Paynesville Ice Arena)

The Stars knew that the Benson Braves were going to be a good and competitive team. The first period was a tough period for both teams. There was tension out on the ice, and it showed. Both of the teams played hard by skating well and being aggressive.

This continued until Kari Turkowski, a senior for the Stars, stole the puck and scored with a wrist shot with only 30 seconds left in the second period. This was a marvelous breakthrough for the Stars.

The third period was a little nerve racking with the Stars only ahead by one goal. They knew that they had to fight for the win, and they did. There was no other scoring in the final period. "This was a team that we really needed to beat. It was a great accomplishment," said senior Courtney Karsch.

The Stars goalie, Shari Vogt, had great goaltending by stopping all of the Braves' 32 good shots.
| | | | | |
| --- | --- | --- | --- | --- |
| Benson-- | 0 | 0 | 0 | - 0 |
| River Lakes-- | 0 | 1 | 0 | - 1 |
River Lakes 3
Willmar 1
The Stars traveled to Willmar Thursday and got their other big win of the week. With the Stars getting their positioning down and smooth goaltending by Vogt, the Stars received another great victory, 3-1.
The first period was scoreless, but the Stars felt confident and knew what they had to do as a team to win.
The second period was much better after Turkowski scored and Melissa Jungels scored for the Stars. Willmar had some breakaways, but just couldn't get the puck by Vogt, who made 30 saves.
With the Stars leading 2-0 after two periods, Willmar scored on a tip in the third. Now, with only a one-goal lead, the Stars had to play good defense and offense. Towards the end of the final period, Willmar pulled their goalie, and Turkowski made a goal on a shot from the blue line to ice the game.
The Stars have a current record of 4-2. They played yesterday in Richmond against St. Cloud Tech. Their next game is on Friday in Wadena. Next Tuesday, Dec. 14, they play at Litchfield/Dassel-Cokato.
| | | | | |
| --- | --- | --- | --- | --- |
| River Lakes- | 0 | 2 | 1 | - 3 |
| Willmar-- | 0 | 0 | 1 | - 1 |
---