Bulldogs start basketball season this week
This article submitted by Michael Jacobson on 12/8/99.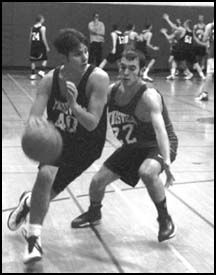 After two weeks of practice, the Paynesville boys' basketball team opened their season last night against Kimball. So far, nearly 40 boys are out for the varsity, B-squad, and C-squad teams, with approximately equal numbers on each team.

On varsity, the Bulldogs return four players from last year: seniors Steve Gilk, Luc Trees, and Ryan Wall; and junior J.T. Koehn. Trees and Koehn, reserves on last year's 11-12 squad and co-captains this year, are the only returning players with considerable varsity game experience. Trees averaged 5.8 ppg and 2.8 rpg last year, and Koehn averaged 5.2 ppg, 4.3 rpg, and 1.8 bpg.

Adam Gifford dribbles against Logan Louis during basketball practice last week.

"I think we can surprise a lot of people in Paynesville," said Koehn. "I think we have a lot of guys who hustle and that will make up for a lack of experience."

Other seniors on the team this year are John Brady, Nathan Schutz, and Troy Schmidt. Juniors are Adam Gifford, Davis Hoekstra, Jon Lieser, Logan Louis, Nathan Martinson, and T.J. Schultz. Sophomore Andrew Jones also is expected to see varsity action.

"One of their assets so far is they are a hard working team," said new coach Barry Strand. "They've been working like dogs in practice. If we can continue that, we should improve."

Strand said the team needs to develop chemistry after graduating five starters from last year. Who will score? Who will rebound? "They're going to have to understand their roles," he said.

The West Central Conference figures to be a strong conference once again this winter. Litchfield, which has also moved into Paynesville's subsection, is rated first in the state in Class AA byThe Minnesota Basketball News. Long Prairie-Grey Eagle is also rated in state.

"To be competitive," Strand said, "the Bulldogs will need to be unselfish offensively, play great defense, and rebound well."

Strand, a native of Hawley, Minn., and a graduate of Moorhead State University, has six years of head coaching experience for Stephen-Argyle, where he also taught physical education and health. He also was an assistant coach in Gary, Minn., while attending college. His wife, Charlene, teaches music at the elementary school.

The entire high school coaching staff is new to the program this year. The B-squad coach is Mike Jacobson, and the C-squad coach is Grayling Trees.

The boys play at St. Cloud Cathedral tomorrow night. They will host Sauk Centre next Tuesday, Dec. 14, for their first home game, which will also be parents' night.
---