The Stars had a record 93 shots on goal in beating Little Falls 11-4 in a Central Lakes Conference game in Richmond on Tuesday, Nov. 29.

The Stars broke a 2-2 tie after the first period by outscoring the Flyers 9-2 the rest of the way, including 6-1 in the second period.

Senior forward Amber Schulzet-enberge scored four goals for the Stars, including their first three tallies of the night, and added an assist to lead the Stars.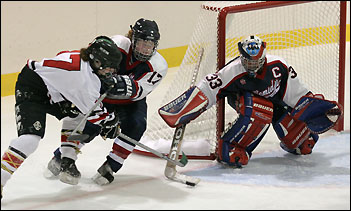 Other goal scorers for the Stars were: junior Tori Aretz, sophomore Alyssa Kemper, sophomore Kenzie Novak, senior Marie Omann, and senior Allie Stalboerger.
Senior Amber Schulzetenberge circled the net while attempting a wraparound against Bemidji on Friday night.
Sophomore Greta Omann had four assists for the Stars, and ninth grader Gina Athmann two. Novak and Marie Omann both had two points as well.
The Stars would have scored more except that the Flyers goalie made 82 saves. In the first period, the Stars had 35 shots on goal, with the Little Falls goalie stopping 33, causing the 2-2 tie. In the second period, the Stars had 33 shots on goal, compared to only one for Little Falls. And in the third period, the Stars had 25 shots on goal.
This week, the Stars (3-5-1) hosted St. Cloud Apollo in Richmond on Tuesday night. They will play at Willmar on Thursday, and next week they will play at Princeton on Tuesday, Dec. 13.
| | | | | |
| --- | --- | --- | --- | --- |
| Little Falls-- | 2 | 1 | 1 | - 4 |
| River Lakes-- | 2 | 6 | 3 | - 11 |
Scoring Summary
First Period: RL-Amber Schulzeten-berge (Emma Schott), 6:09 (sh); LF-Jaci Laporte, 6:59 (pp); RL-Schul-zetenberge (Greta Omann, Marie Omann), 8:12; LF-C.J. Arndt (Shelby Atkinson, Laporte), 16:42;
Second Period: RL-Schulzetenberge (Ellyn Kinzer), 3:53; RL-Alyssa Kemper (Abbie Rhoda, Gina Athmann), 4:25; LF-Arndt (Laporte), 7:20; RL-Kenzie Novak (Schulzetenberge), 9:29 (sh); RL-Schulzetenberge (Greta Omann), 12:20; RL-Marie Omann (Novak), 13:20;
Third Period: RL-Shannon Smith (Greta Omann), 2:45; LF-Ashley Wenner, 5:41; RL-Tori Aretz (Greta Omann), 7:06; RL-Allie Stalboerger (Kemper, Athmann), 8:55.
Bemidji 5, River Lakes 2
Bemidji, whose lone loss this season came to top-ranked Eden Prairie, broke a 1-1 second-period tie with the River Lakes Stars girls' hockey team and won 5-2 on Friday, Dec. 2, at the Koronis Civic Arena.
After Bemidji, a section rival of the Stars, scored the only goal of the first period, senior Allie Stalboerger scored for River Lakes less than a minute into the second period to tie the game 1-1. Eighth grader Jenn Paul beat a Bemidji player to a loose puck in the Bemidji zone and centered it to sophomore Allie Rhoda with Stalboerger knocking the rebound into the net.
Five minutes later, though Bemidji answered with a goal to take a 2-1 lead. They added a power-play tally two minutes later, and a third goal with 90 seconds left in the second period. (Another possible goal for Bemidji was ruled a no goal due to a player being in the crease.)
In the third period, the Stars broke into the scoring column with a little over three minutes to play. Sophomore Kenzie Novak scored from the point with a lofted shot on a power play, assisted again by Paul, to make the score 4-2.
Bemidji added an empty-net goal with 22 seconds left to make the final score 5-2.
| | | | | |
| --- | --- | --- | --- | --- |
| Bemidji-- | 1 | 3 | 1 | - 5 |
| River Lakes-- | 0 | 1 | 1 | - 2 |
Scoring Summary
First Period: B-Kaitlan Dickson (Sarah Erickson), 10:45;
Second Period: RL-Allie Stalboerger (Abbie Rhoda, Jenn Paul), 16:07; B-Aryn Ball (Shauna Perrault), 12:29; B-Erickson (Courtney Josefson), 10:28 (pp); B-Josefson (Dickson, Courtney Reutzel), 1;33;
Third Period: RL-Kenzie Novak (Paul), 3:40 (pp); B-Ball, 0:22 (en).\
---
Contact the author at editor@paynesvillepress.com • Return to Sports
Home | Marketplace | Community
---