The Bulldogs girls' basketball team used a series of runs to crush the Kimball Cubs 72-30 and win their season-opening game on Tuesday, Nov. 29, at home.

After a ragged start, with frequent turnovers, for both teams, who were both playing their season opener, the Dogs led 7-5 nearing midway through the first half but then enjoyed a 10-2 run to take a 10-point lead at 17-7. Junior post Jacque Schlangen scored five points for the Dogs during this run.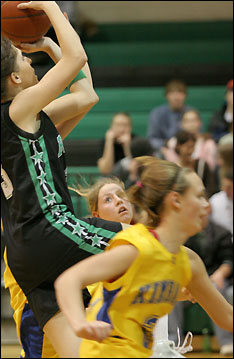 The Dogs closed the first half - high school games switched to two 18-minute halves this year - with a 9-3 run to take a 34-16 lead at halftime. Sophomore guard Brittni Schmitz led the Dogs with 10 points in the first half.
Sophomore guard Brittni Schmitz drove to the hoop for a layup in the Dogs' 72-30 victory over Kimball on Tuesday, Nov. 29. She scored 17 points.
The Dogs scored four quick baskets to start the second half. While it took Paynesville two minutes to score their first points in the first half, during the first 90 seconds of the second half they scored four hoops to run their lead to 42-16. Senior Lynn Lieser started her big second half with two of these hoops; she finished with 13 points in the second half.
After Kimball got on the board for the second half, the Dogs used another 10-0 run to build a 30-point lead at 53-20. Senior Brooke Schmitz started this run with a three-pointer, her second of the game, and her sister got two layups on fastbreaks and made a free throw to account for five of the points in the run.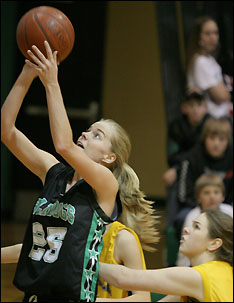 Over the final nine minutes of the second half, the Dogs (1-0) continued to outscore the Cubs, 19-10, and won 72-30.
Lynn Lieser led the Dogs with 20 points and 10 rebounds. Brittni Schmitz added 17 points, and Brooke Schmitz had 10, all varsity career bests.
Senior Lynn Lieser had a career high 20 points in the Dogs' 72-30 season-opening victory over Kimball on Tuesday, Nov. 29.
In addition, Schlangen (9 points) and senior Allyson Klenke (6 points) had career highs as well, helping to offset injured junior Kristin Lang (ankle) in the post.
Senior Amber Jensen (3 points) also had a career high on varsity, and junior Kirsten Miller and sophomore Natalie Leadem scored their first varsity points.
"It was a great team effort to start the season," said coach Jackie Parsley of the victory.
This week, the Bulldogs hosted Albany in their conference game on Tuesday night. They will play at Melrose on Friday night.
| | | | |
| --- | --- | --- | --- |
| Kimball-- | 16 | 14 | - 30 |
| Paynesville-- | 34 | 38 | - 72 |
SCORING: (FG-FT/FTA-PTS)
Kimball 30 - Ashley Kunkel 12; Felicia Munson 4; Whitney Gettler 3; Mindy Hurrle 2; Krystal Mackerath 2; Melanie Massman 2; Justine Ruehle 2; Brittnay Simmons 2; Kayla Kastanek 1; TOTALS: FG 10, FT 8/14, 3's 2.
Paynesville 72 - Lynn Lieser 8-4/8-20; Brittni Schmitz 6-5/12-17; Brooke Schmitz 4-0/0-10; Jacque Schlangen 3-3/4-9; Allyson Klenke 2-2/2-6; Amber Jensen 1-1/2-3; Kirsten Miller 1-1/2-3; Natalie Leadem 1-0/0-2; Ashley Lieser 1-0/0-2; TOTALS: FG 27, FT 16/30, 3's 2.
STATISTICS: 3-pointers - 2 Brooke Schmitz 2; Rebounds - 36 Lynn Lieser 10; Ashley Lieser 7; Klenke 6; Assists - 12 Brooke Schmitz 6; Ashley Lieser 3; Steals - 20 Brooke Schmitz 6; Ashley Lieser 5; Brittni Schmitz 5; Lynn Lieser 2; Blocks - 1.
---
Contact the author at editor@paynesvillepress.com • Return to Sports
Home | Marketplace | Community
---