The Bulldogs used a 10-0 spurt late in the first half to break away from Kimball and cruised to a 72-52 season-opening win over the Cubs on Saturday evening at Halenbeck Hall at St. Cloud State University.

The Dogs and the Cubs played before an SCSU men's game - SCSU beat Dakota State 87-64.

Much of the first half - high school games switched from four eight- minute quarters to two 18-minute halves this year - was back and forth, but the Dogs pulled away in the last five minutes of the first half. Leading 27-26, senior Derek Stanger made a free throw, junior Cory Nietfeld made two free throws (after being fouled on a three-point attempt) and then made back-to-back buckets, and junior Ben Moser sunk his second three-pointer for a 37-26 lead with two minutes to play.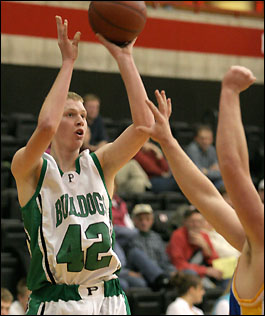 The Dogs led 39-29 at halftime and then used a 7-0 run to start the second half to turn a close game into an easy win. Nietfeld hit a 15-footer to start the second-half scoring, Stanger completed a three-point play on a fastbreak, and senior Trent Hansen hit a 16-footer to comprise the Dogs' 7-0 run.
Junior Ben Moser came off the bench to score 20 points and grab 14 rebounds for the Bulldogs.
The closest Kimball got after that was 12 points midway through the second half. And when the Dogs returned their starters, they quickly rebuilt a 16-point margin.
The first half, though, featured ten lead changes and two ties until the Dogs took the lead for good when Moser hit his first three-pointer to break a 20-20 tie.
Another highlight in the first half was Nietfeld's dunk, which came following the Dogs' defense forcing a loose ball and a scramble at midcourt. When Nietfeld finally retrieved the ball, he was at the top of the key with a clear path to the bucket, which he took for his first dunk in a varsity game.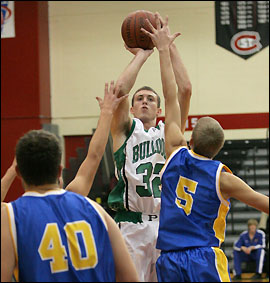 "We came out and were a bit shaky, but it didn't take long to get things rolling," said coach Phil Carlson. "Kimball came out and executed well hitting open shots. Our defense boarded well all night, but we did leave them a few more open shots than we would like at times."
Junior Cory Nietfeld grabbed 14 rebounds against Kimball on Saturday. The Dogs dominated the boards with 69 rebounds in their 72-52 win at Halenbeck Hall. Nietfeld led the Dogs with 26 points.
Nietfeld led the Dogs with 26 points. Moser added 20, and Stanger 11. All three also had double digits in rebounding, too, with 14 for Nietfeld, 14 for Moser, and 10 for Stanger.
The Dogs had 69 rebounds, including 32 on the offensive glass, leading to many second-chance opportunities and points.
Senior Mark Andrie led the Dogs with nine assists.
Senior Matt Mergen (four points) and ninth grader Nathan Nietfeld (two points) got their first varsity points in the game. Carlson praised the bench play, especially junior Sam Bayer, Mergen, Moser, and junior Elliott Wall (who had eight rebounds and three steals).
The Bulldogs' B- and C-squads opened their season at Kimball on Tuesday, Dec. 6. (Only the varsity game was played at Halenbeck Hall at St. Cloud State University.)
On Friday, the Dogs will host their first home game against BBE. Next week, the Dogs will start their conference schedule by hosting Albany on Monday, Dec. 12.
| | | | |
| --- | --- | --- | --- |
| Paynesville-- | 39 | 33 | - 72 |
| Kimball-- | 29 | 23 | - 52 |
SCORING: (FG-FT/FTA-PTS)
Paynesville 72 - Cory Nietfeld 11-4/6-26; Ben Moser 9-0/1-20; Derek Stanger 3-5/6-11; Aaron Braun 1-3/6-5; Matt Mergen 1-2/4-4; Mark Andrie 1-0/0-2; Trent Hansen 1-0/0-2; Nathan Nietfeld 1-0/0-2; TOTALS: FG 28/67, FT 14/23, 3's 2.
Kimball 52 - Jeff Hunt 4-5/8-14; Robbie Massmann 4-0/0-9; Matt Dingmann 2-4/4-8; Jeff Miller 3-0/0-6; Keith Mashburg 2-0/0-4; Steve Schuts 1-2/4-4; Kevin Sommers 1-2/3-4; Devin Rosenow 1-1/2-3; TOTALS: FG 18, FT 14/21, 3's 2.
STATISTICS: 3-pointers - 2 Moser 2; Rebounds - 69 Moser 14; Nietfeld 14; Stanger 10; Elliott Wall 8; Braun 6; Assists - 25 Andrie 9; Moser 4; Nietfeld 4; Steals - 10 Nietfeld 3; Wall 3; Blocks - 12 Braun 3; Harrison Fangmeier 3; Nietfeld 2; Stanger 2.
---
Contact the author at editor@paynesvillepress.com • Return to Sports
Home | Marketplace | Community
---