Senior Kacy Nehowig won the balance beam, uneven bars, and the all-around competition, but the Dogs dropped their gymnastics opener to St. James 120.75-105.95 on Friday night at the gymnasium at the Lake Koronis Assembly Grounds (now called Koronis Ministries).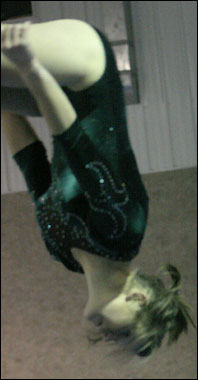 Nehowig won the bars (8.4), beam (8.2), and the all around (33.5), coming within a point of the school record in the all around (34.15). She also placed second on the vault (8.6) and floor exercise (8.3).
Senior Kacy Nehowig soars airborne during a tumbling run of her floor exercise routine. She won the uneven bars (8.4), balance beam (8.2), and the all around (33.5) against St. James on Friday and placed second on the floor (8.3) and vault (8.6).
The small-squad Dogs (six team members) were outscored by the larger St. James team on all four apparatus. The Dogs scored the best on the vault (31.05), trailing St. James by two and a half points. They trailed St. James by less than 2.5 points on the balance beam, but the Saints won the uneven bars by 4.5 points and the floor exercise by 5.5 points.
Eighth grader Caitlyn Gottwald was the only other PAHS gymnast to place at the meet, taking fifth on the balance beam (6.4), the floor exercise (6.85), and in the all around (25.8), edging senior teammate Brittney Spanier (25.5) in the all around.
In addition to their three all-around competitors, senior Tanis Beireis competed on the vault, bars, and beam for the Dogs, and eighth grader Talisha Zimmerman competed on the beam and floor.
"We were hoping to hit 107 for our first meet but fell short of our team goal," said coach Deb Nehowig. "We now have a base score that we can build on and improve upon as the season progresses."
"I was proud of Talisha's first varsity performance," added Nehowig. "Her scores will improve as she adds more difficulty to her routines."
This week, the Dogs (0-1) will travel to LPGE on Tuesday. On Saturday, they will compete in a tournament at Morris.
Next week, the Dogs will host Benson on Tuesday, Dec. 12.
| | |
| --- | --- |
| St. James-- | 120.75 |
| Paynesville-- | 105.95 |
Individual Results
Vault: Kacy Nehowig (2) 8.6; Caitlyn Gottwald 7.85; Brittney Spanier 7.35; Tanis Beireis 7.25; TOTAL: Pay - 31.05; SJ - 33.45;
Uneven bars: Nehowig (1) 8.4; Spanier 6.5; Beireis 4.7; Gottwald 4.7; TOTAL: Pay - 24.3; SJ - 28.8;
Balance beam: Nehowig (1) 8.2; Gottwald (5) 6.4; Spanier 5.8; Beireis 5.15; Talisha Zimmerman 4.25; TOTAL: Pay - 25.55; SJ - 27.85;
Floor: Nehowig (2) 8.3; Gottwald (5) 6.85; Spanier 5.85; Zimmerman 4.05; TOTAL: Pay - 25.05; SJ - 30.65;
All around: Nehowig (1) 33.5; Gottwald (5) 25.8; Spanier 25.5.
---
Contact the author at editor@paynesvillepress.com • Return to Sports
Home | Marketplace | Community
---